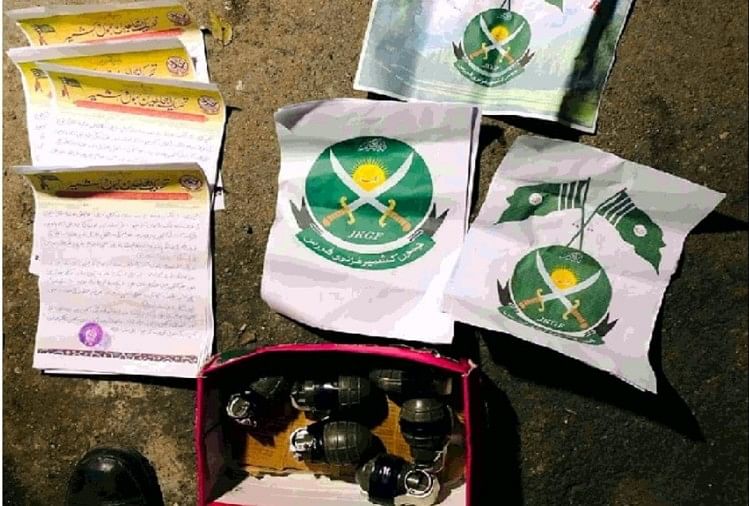 India News
Pakistani plot to spoil the atmosphere by attacking Grenade on the temple failed – Jammu and Kashmir: Pakistani plot to spoil the atmosphere by attacking grenade on the temple failed
On December 28, 2020 by admin
Grenades and other recovered items …
– Photo: amar ujala
A large conspiracy to spoil the atmosphere has been revealed by grenade attack on the temple in Poonch district adjacent to the LoC. Security forces have arrested three militants' helpers. Six grenades, Pakistani flag balloons and posters of the new Lashkar-e-Taiba Jammu and Kashmir Ghaznavi force have been recovered from their possession. A video of the arrested terrorist assistants training to throw hand grenades into mobiles has also been recovered. The trio had been in contact with handlers across the border for a long time, who were given the task of carrying out a grenade attack on the temple in Adi village of Mendhar in Poonch. Security agencies are also investigating the possibility of more such people.
According to SSP Poonch Ramesh Angral, a major incident has been averted by the arrest of the three on one occasion. He said that SOG and 49 RR stopped the vehicle JK 02 BG-8086 on Kangra Guluta road adjacent to LoC late Saturday. During the investigation, he was caught for questioning in view of suspected antics of Mustafa Khan. In strict questioning, he started unraveling the secrets of relations with terrorists in Pakistan.
Based on this questioning, six grenades were recovered from his house after searching. After the disclosure of Mustafa, two close brothers Mohammad Yasin and Mohammad Iqbal were arrested from Dabbi, a village next to Fencing on the Line of Control in Balakot sector. Both of them have been seized belongings related to terrorist organization Jammu and Kashmir Ghaznavi Force. In it, posters, pamphlets and other written materials of the organization were found, as well as some balloons bearing the flag of Pakistan.
The wires are also connecting to the Poshana encounter
The wires to arrest the three helpers of the terrorists are also connected to the Poshana encounter. On this question, SSP Angral said that whatever apprehensions appeared since the encounter, investigation is going on. Three more arrests have taken place during this investigation. Whether or not these three accused have direct connections is also being investigated. Every aspect related to the seizure of grenades and other objectionable material from Pakistani handlers to constant contact is being investigated.
Pakistan's eye on the tail
Poonch has been the center of terrorist activities almost a decade and a half ago, but since then the strictness of the security forces broke the back of the terrorist network. In recent times, Pakistan has again stepped up efforts to increase terrorist activities in Poonch. In 2016, a grenade attack was carried out on Shri Budha Amarnath Yatra. 15 devotees were injured in this. On December 13, two militants were killed by security forces in Poshna, Poonch.

www.amarujala.com