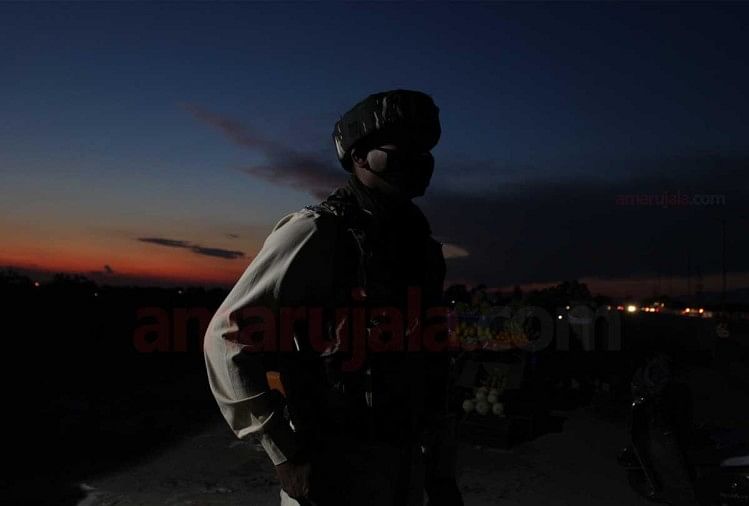 India News
Pakistan Planned to Carry Out Terrorist Attacks in Jammu Extra Vigilance at Vaishno Devi and Tourist Places – Pakistan assigned to LeT
On December 28, 2020 by admin
Vaishno Devi and extra vigilance at tourist places
– Photo: Nikhil Mehta
After Kashmir, Pakistan is now trying to spoil the atmosphere in Jammu as well. For this, he is plotting to disturb the communal atmosphere by targeting religious places and crowded areas. The terrorist organization Lashkar-e-Taiba has been given the responsibility, which is using its local network. Local terrorists and helpers from across the border are constantly being instructed in this regard. In a week, six LeT operatives have been arrested in Jammu division. This has raised the ears of security agencies.
Sources associated with security agencies say that the busting of Lashkar modules at one place in Poonch and two in Jammu in a week indicates a big conspiracy. This is not a coincidence. He says that there are two-three reasons behind Pakistan's anger. The first is the heavy turnout in the recently held DDC election, bypassing the election boycott in the Valley. The second is to divert public attention from the unstable Imran government and the upsurge in Pakistan.
Also read: This year, 17 terrorists surrendered, a terrorist's eyes opened with the fear of bears, then he returned to the mainstream
In such a situation, he is trying to spread panic in the new area. For this, along with Doda, Kishtwar of Jammu division, Rajori and Poonch are being made soft targets. Jammu being the capital of the state has been targeted. For this, the sleeper module is being resorted to. Infiltration attempts are also continuing on the international border and LoC.
Vaishno Devi and extra vigilance at tourist places
New Year has been instructed to be extra vigilant in view of the crowds that throng the tourist places and the court of Maa Vaishno Devi. Security arrangements have also been asked to be strengthened. This step has been taken in view of the possibility of terrorists targeting the crowded areas.
The new organization Ghaznavi Force raised concern
The posters of the new organization Jammu and Kashmir Ghaznavi Force found near the three helpers of the terrorist module caught in Poonch on Sunday have raised concerns. It is also a proxy organization of Lashkar. After The Registration Front (TRF), now the Ghaznavi force has also been formed by Lashkar so that the conspiracy can be carried out by entangling security agencies by splitting them into different organizations.
The entire situation is closely watched. The security forces are fully alert. Any attempt by Pakistan will not be allowed to succeed. There is complete preparedness from the border to the interior areas. This is the reason why every effort of terrorist organizations is being thwarted. -Mukesh Singh, IG, Jammu
Recent Major Events
28 December-A LeT operative arrested in Jammu with two grenades. Highway attack task.
27 December-In Poonch, three Ghaznavi Force helpers were killed with six grenades. There was a conspiracy to attack the temple in the border village of Adi.
27 December-Intercept on IB with walkie-talkie from ISI in Chaliari village in Samba sector.
read ahead
Vaishno Devi and extra vigilance at tourist places

www.amarujala.com