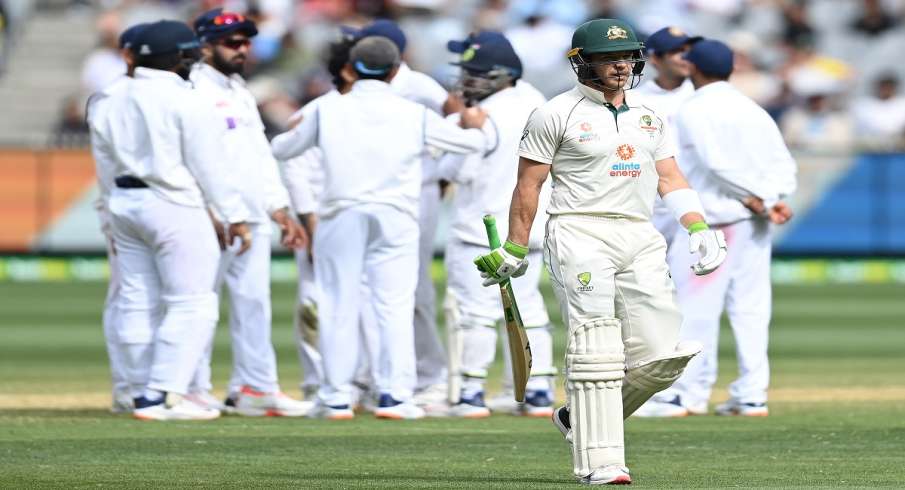 India has tightened its grip on Melbourne Cricket Ground (MCG) in the second Test match being played against Australia and is in a very strong position. Australia has somehow crossed the 131-run lead taken by India and by the end of Monday's game on the third day, they have lost 133 for six, taking a two-run lead over the visiting team. However, seeing the position that the Australian team is in, it does not seem that it will be able to set a strong target in front of India.
India were all out for 195 runs in the first innings, then took the lead by scoring 326 runs in their first innings. Australia's score was 99 for six at one time in the second innings. From here it looked like she could lose by an innings, but all-rounders Cameron Green and Pat Cummins saved her. Green is unbeaten by 17 and Cummins is 15 not out by the end of the day's play.
Also read- 'Eclipse' became 'year 2020' in the history of Indian cricket, which no one would like to remember
So far, 34 runs have been shared between the two. India dominated in this match from day one. The bowlers showed strength in the first innings and also in the second innings. India had one bowler short in the second innings. Umesh Yadav walked out of the ground due to pain in the calf. Their absence did not miss India as Jasprit Bumrah, Mohammed Siraj, Ravichandran Ashwin, Ravindra Jadeja made the Australian batsmen to stand on the pitch.
Australian batsmen did not look comfortable from start to finish. Matthew Wade, who scored 40 and Marnus Labushain, who scored 28, somehow tried to face the Indian bowlers. But after a while their struggle also responded.
Umesh Yadav started to get wickets to India. He dismissed Joe Burns (4). He then went out due to pain in the calf.
Also read- Ind vs Aus: Tendulkar admitted, Rahane and Jadeja's partnership could snatch the match from Australia
Labushan then added 38 runs with Wade. It was felt that this partnership could flourish well for the host team, when Ashwin's best ball was taken in the hands of Rahane standing in the slip with the edge of Labushain's bat. The captain did not make a mistake. Australia lost the same two wickets in the first session.
His condition worsened in the third season. The pressure also increased because Steve Smith, the team's chief batsman and No. 1 in the Test rankings, failed once again. Bumrah bowled him on a personal score of eight. It was a big wicket and from here the pressure started on Australia, in front of which its batsmen pile up one by one.
Wade could not complete the half-century. He was lbw to Jadeja. Wade's wicket fell to a total score of 98. Siraj then dismissed Travis Head (17) on the same score. Tim Paine managed only one run in this innings. Jadeja made him his victim.
Also read: After being run out, Rahane did something with Jadeja that the flood of social media reaction
It was felt that India would win this match by an innings on the third day, but Cummins and Green have so far kept Australia alive.
Earlier, India started the day with a total score of 277 at the loss of five wickets. Rahane added another eight in his second day's score of 104 and then was run out unfortunate.
Jadeja was one run away from his half-century. He played the ball in the direction of the covers and ran for runs. Rahane stopped from reaching the crease from a distance of a few centimeters at the striker's end. Rahane hit 22 fours in his 112-run knock while facing 223 balls.
Also read- Ind vs Aus: Indian team may increase problem, Umesh Yadav left field due to injury
Not long after, Jadeja completed his half-century but was caught by Mitchell Starc's bouncer in the trap of Pat Cummins on a personal score of 57. He played 159 balls and hit only three fours. Here India's score was 306 for seven wickets. The last three players – Umesh Yadav (9), Ravichandran Ashwin (14) and Jaspreet Bumrah (0) returned to the pavilion within 20 runs.
Stark and off-spinner Nathan Lyon took three wickets each for Australia. Pat Cummins scored two and Josh Hazlewood scored a breakthrough.



www.indiatv.in