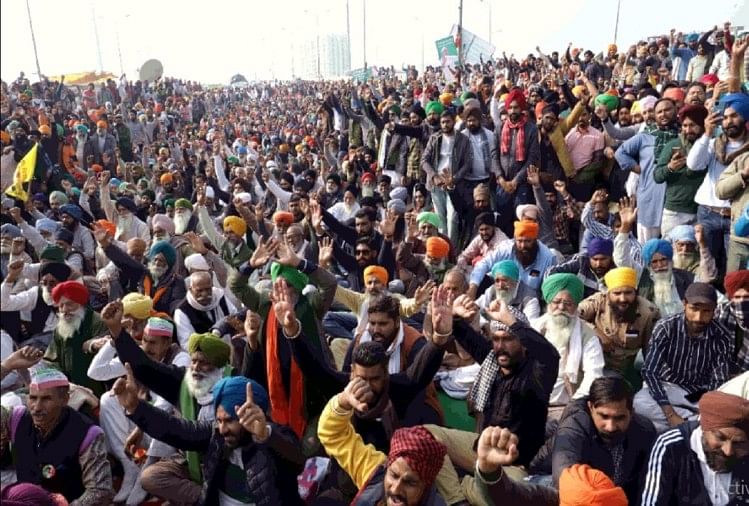 India News
Call of Farmers from Ghazipur Farmers Will Celebrate New Year With Family Here – Farmers call in Ghazipur, New Year will be celebrated here with family, Delhiites are also invited
On December 28, 2020 by admin
News Desk, Amar Ujala, New Delhi
Updated Tue, 29 Dec 2020 01:19 AM IST
Farmers opposing agricultural laws
– Photo: amar ujala
Farmers, who have been sitting on dharna for more than a month regarding agricultural laws, called on the Ghazipur border on Monday to celebrate the New Year with their families on the border. Farmer leaders have also appealed to the people of Delhi to celebrate the New Year this year together with the farmers and encourage them. The committee operating the dharna in Ghazipur announced that preparations are being made for this.
A separate committee has also been constituted to provide facilities to women and to make arrangements for their living. Like other places, the series of gradual hunger continues on the Ghazipur border for the past several days. On Monday, 11 farmers were fasting on the stage. Doctors took medical checkups of the fasting farmers and sent their reports to the administration.
Manjit Singh Rai, president of United Kisan Morcha and Bharatiya Kisan Union (Doab-Punjab), criticized the government and said that the government's intention was not right. Now at the behest of the government, lawsuits have also been filed against the farmers. In Uttarakhand, cases were filed against more than 1500 farmers who were marching towards Delhi. He said that no farmer should be scared of such cases. Manjit along with Kuldeep Singh Bajitpur and Amarjeet Singh Kalaha of United Kisan Morcha had reached the Ghazipur border to form further strategies. These people said that wherever cases are being filed against farmers, farmers will now encircle those areas.
Farmer leaders also announced from the platform that no active leader will be allowed to climb the platform. If a leader wants to come here, then he should sit here as the son of ordinary farmer. He will not be allowed to have ideas from the stage. It was also said by the committee that is running the forum that their movement will continue till the government repeals all the three laws apart from enacting laws on MSP.

www.amarujala.com