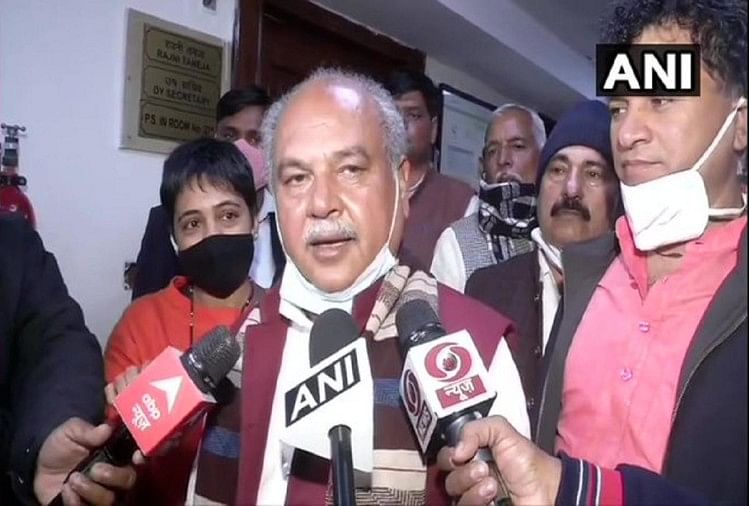 India News
Union Agriculture Minister Narendra Singh Tomar Kisan Andolan Opposition Talk Letter Farmer Bill – Farmer Movement: Agriculture Minister's Opposition Attacked, Said- People Who Have Lost Ground Base Look For Shoulders
On December 25, 2020 by admin
News Desk, Amar Ujala, New Delhi
Updated Fri, 25 Dec 2020 6:13 PM IST
The farmers have been sitting on a dharna for a month on the borders of Delhi, the capital of the country, in protest against the new agricultural laws of the central government. Demonstrating farmers demand that the government repeal these agricultural laws. The peasant movement has the support of many political parties, including Congress and AAP. Taking a dig at these political parties, Union Agriculture Minister Narendra Singh Tomar said that some people who have lost the ground base, so from time to time they look for the shoulders and today the Kisan agitation has fired its ideological gun on the shoulders of the farmer. Want to practice The public will respond to those who commit the sin of misleading them by becoming sympathizers of the farmers.
Agriculture Minister Narendra Singh Tomar said that the governments of the entire country have joined the PM Kisan Samman Nidhi except the West Bengal government. There are about 70 lakh eligible beneficiaries in West Bengal, if these people join this scheme, then the farmers of West Bengal will get Rs 4,200 crore in a year. He further said that the farmers of West Bengal are deprived of it at present. I have written a letter in the past as well as recently to West Bengal Chief Minister Mamata Banerjee, urging her to join this scheme soon.
Many state farmers came to support
Union Minister of State for Agriculture Kailash Chaudhary said, "I hope a solution will be found in the next meeting between the farmers and the government." Farmers of many states are also supporting the new agricultural laws and sending thanks letters to the Prime Minister.
Defense Minister gave assurance to farmers
Addressing a rally in Delhi's Dwarka on Friday, Defense Minister Rajnath Singh said that he himself is the son of a farmer. Assuring farmers from an open platform, Rajnath Singh said that the Modi government will never do anything which is not in the interest of farmers. With this, he said that if these laws do not seem beneficial, the government will bring all the necessary amendments in them.
Goyal said – If farmers have an argument, then come forward for talks
Regarding the farmers' protests, Union Minister Piyush Goyal said that among the people sitting on the borders of Delhi, many people have misunderstandings and they are almost from the same area. He announced the Bharat Bandh twice in the country but it was not successful. With this, the Union Minister said that the farmers have no argument so they are running away from the discussion.

www.amarujala.com