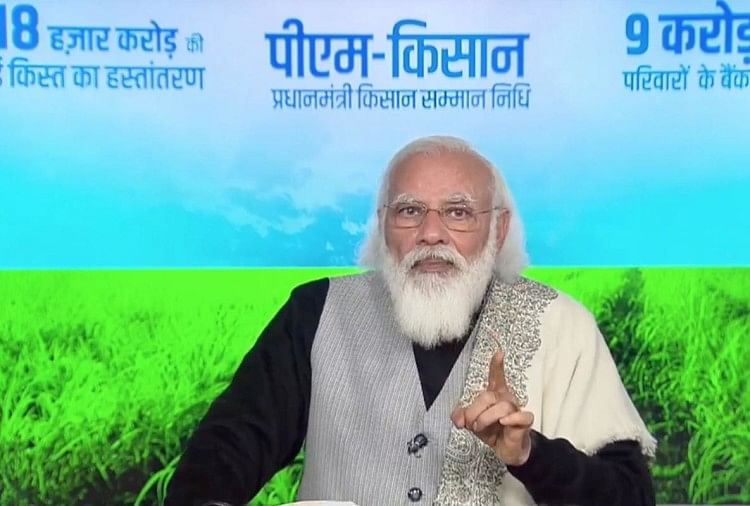 India News
Pm Modi Release Installment of Pm Kisan Samman Nidhi Farmers Protest Farm Laws Bengal Govt Opposition Election – PM Modi asked- Why don't you agitate in Bengal-Kerala, read here 10 big things
On December 24, 2020 by admin
News Desk, Amar Ujala, New Delhi
Updated Fri, 25 Dec 2020 4:10 PM IST
Prime Minister Narendra Modi
– Photo: Twitter
Prime Minister Narendra Modi on Friday transferred 18 thousand crore honor fund to the account of nine crore farmers of the country under the Prime Minister Kisan Samman Nidhi (PM-Kisan). During this, he interacted with farmers from six states through video conferencing. During a conversation with farmer Gagan Paring of Arunachal Pradesh, the Prime Minister asked that the private company bought only your crop or even took the land? In response, he said, "There has been an agreement to carry the product, not the land." The land is safe. After a dialogue with the farmers, the Prime Minister also addressed the countrymen. He attacked the opposition fiercely and counted the benefits of agricultural reforms. Read here 10 big things about the Prime Minister's address-
Farmers from all over the country are benefiting from the Kisan Samman Nidhi scheme, governments of all ideologies are attached to it, but the West Bengal government is not allowing 70 lakh farmers there to benefit from it. The government of Bengal is not giving money to the farmers of the state for its political reasons.
The parties that do not speak on the condition of the farmers in Bengal are trying to harass the citizens of Delhi. In the name of the farmer, he is engaged in ruining the economy of the country. These parties are very much missing the APMC-Mandis nowadays. But these parties repeatedly forget that there are no APMC mandis in Kerala. These people never agitate in Kerala.
I ask these parties to do photo taking programs here, just make an agitation in Kerala and start APMC there. You have time to mislead the farmers of Punjab, you do not have time to start this system in Kerala. Why are you taking a double policy.
Our government endeavored to ensure that the farmer of the country gets a fair price for the crop. As per the report of the long-standing Swaminathan Committee, we gave one and a half times the cost to the MSP farmers. Earlier, MSP was available on a few crops, we also increased them.
Through these agricultural reforms we have given better options to the farmers. After these laws you can sell your produce to whomever you want. You can sell produce where you get the right price. After forming the government in 2014, our government started working with the new approach. We paid attention to small problems of the farmer of the country, modernization of agriculture and preparing it for future needs.
Today, lies are being spread about the agricultural law. Rumors continue on MSP and Mandi, it has been several months since the law came into force but has anyone suffered any loss.
Not all the wrong people are in the peasant movement, some innocent farmers are being instigated. The crop was first sold at MSP and then the movement was fueled.
If the farmer of the country is getting so many rights then what is wrong with it? If farmers are getting the option to sell their produce online through the year and anywhere, then what is wrong with it?
Some political parties which have been democratically rejected by the people of the country are misleading some farmers today.
Recently, many states, be it Assam, Rajasthan, Jammu and Kashmir, elections were held in these panchayats. Prominent among them were people from rural areas, farmers. In a way, he has rejected all the parties which mislead the farmers. The government stands with the farmer at every step.

www.amarujala.com