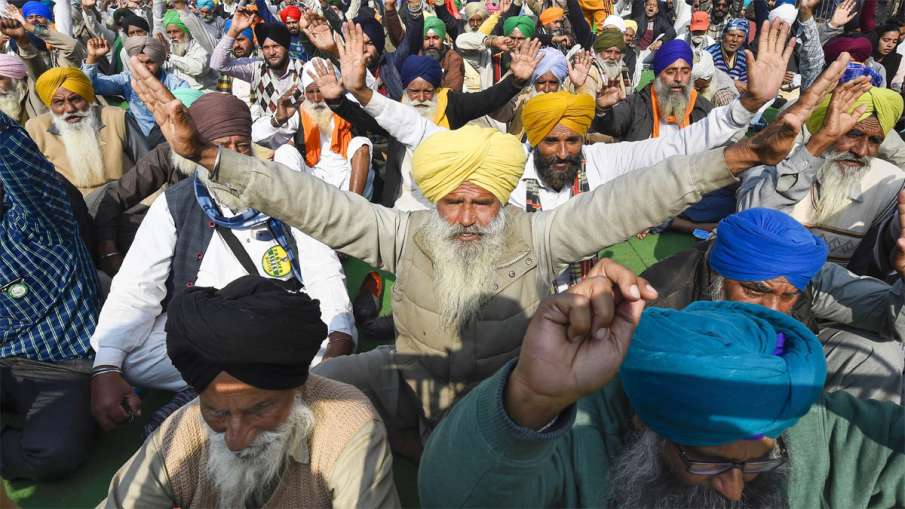 new Delhi: The agitating peasant organizations on Thursday alleged that the government's new letter for talks is nothing but a propaganda about farmers to demonstrate that they are not willing to negotiate. At the same time, the peasant organizations also asked the government to include the repeal of 3 new agricultural laws in the agenda to restore the dialogue. Farmers' organizations said that the minimum support price (MSP) cannot be separated from the demand to repeal controversial agricultural laws. He asserted that the issue of legal guarantee for MSP is an important part of his movement.
40 farmers organizations have settled on the borders of Delhi
The United Kisan Morcha is expected to meet on Friday to discuss the Centre's letter and give a formal reply to it. As many as 40 farmers' organizations have been performing under the banner of this front for the last 27 days at 3 entry points of Delhi, Singhu, Tikri and Ghazipur border. Earlier on Thursday, Vivek Aggarwal, Joint Secretary in the Ministry of Agriculture and Farmers Welfare, wrote a letter to the leaders of the protesting farmers' organizations and invited them for talks again, but also clarified that any new demand related to the minimum support price was on the agenda Inclusion would not be 'logical' as it has nothing to do with the new agricultural laws.
'Government is not serious about our demands'
The government's letter has come in response to a December 23 letter of the United Farmers 'Front, which states that if the government brings a concrete proposal in writing, instead of repeating the rejected idle proposals related to the amendment, the farmers' organization talks Are ready for. Senior Front leader Shivkumar Kakka said, 'The government is not serious about our demands and she is writing letters every day. The new letter is nothing but a propaganda being carried out against us by the government, to demonstrate that we are not willing to negotiate. The government should include the repeal (demand for) the 3 agricultural laws in the agenda for fresh talks. '
'Then who will buy our crop on MSP?'
Kakka said that the MSP's legal guarantee is an important part of the farmers' demand, which cannot be ignored by the government. In a 3-page letter written to 40 farmers' organizations, Agarwal said, "I again request you that the government has been discussing all issues with an open mind and with good intentions to end the agitation and will continue to do so." Please indicate the date and time (for the next round of talks). ' The last 5 rounds of talks between the government and farmer organizations have not yielded any results so far. Another farmer leader Lakhvir Singh said that there is no new proposal in the letter written by the government to the farmers' organizations. He said, 'They (government) can say that these laws will not affect MSP, but the truth is that if FCI (Food Corporation of India) is not in the market, who will buy our crop on MSP?'
'Will answer after the meeting on Friday'
Singh, vice-president of All India Kisan Sabha (Punjab) claimed, 'Even to this day, 23 crops fall under MSP and only wheat, rice and sometimes cotton are purchased on MSP. . Revolutionary Farmers Union press secretary Avtar Singh Mehma said the Center could continue to claim that the new laws would not affect the MSP system, but farmers wanted the MSP Guarantee Act which would ensure that their crops were sold at the minimum support price. He said, 'United Kisan Morcha will meet on Friday to discuss the government's letter and then reply to it.'
'MSP has nothing to do with agricultural laws'
Agarwal asked the leaders of the farmer unions to give details of other issues they want to discuss. The talks will be held at Vigyan Bhawan in New Delhi at the ministerial level. Agarwal urged that the farmers' organization should give the date and time for the next round of talks at their convenience. On the issue of MSP, Agarwal said that agricultural laws have nothing to do with this nor will it have any effect on buying agricultural products at fixed rates. He said that this has been said to the unions in every discussion and it has also been clarified that the government is ready to give written assurance on the MSP. Thousands of farmers have been demonstrating on the borders of Delhi for almost a month against the new agricultural laws enacted in September. Most of these farmers are from Punjab. (Language)



www.indiatv.in