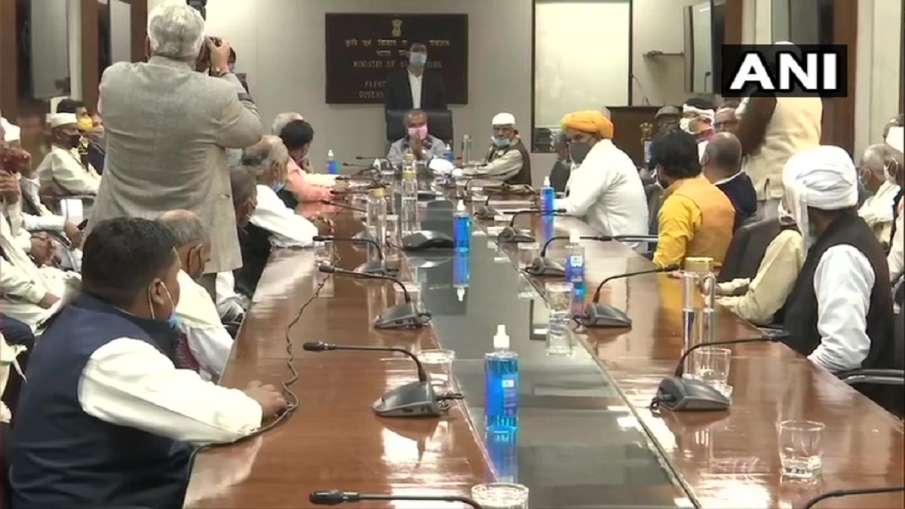 new Delhi: A delegation of 60 farmers from the Kisan Mazdoor Sangh of Baghpat met Union Agriculture Minister Narendra Singh Tomar at Krishi Bhavan in Delhi in support of agricultural laws. The farmers, who came to meet in support, submitted a letter to the Union Minister of Agriculture, in which they have given written support for the agricultural laws through letter.
Agriculture Minister Narendra Singh Tomar gave this information. He said, "Along with the peasant laborers, the representatives of Baghpat came to Krishi Bhavan. We welcomed them. All these farmers want to support the agrarian reform laws. They also gave me letters of support. They said that for amendment in agrarian reform laws The government does not need to come under pressure.
It is worth noting that earlier on 22 December, there was also a meeting with the leaders of the Union of Agriculture Minister Narendra Singh Tomar with the farmers' struggle committee and Bharatiya Kisan Union. After the meeting, Union Agriculture Minister Narendra Singh Tomar had told that some farmers union officials met him and pleaded not to make any changes in the agricultural bills.
Union Agriculture Minister Narendra Singh Tomar had said, "Many farmers union officials have come and they are worried that the government is going to make any amendment in the bills. They have said that these bills are very effective from the point of view of the farmers, And the bill should not be changed in any way. "
Explain that a large number of farmers are opposing the agricultural laws implemented by the central government in the month of September. Farmers' organizations in Punjab and Haryana say that the minimum support price (MSP) system will be destroyed by the recently implemented laws by the Center.
He argues that in the long run, big corporate houses will do their own free will and farmers will get a lower price for their produce. Farmers fear that they will not get the proper price for their crops once the mandi system is overhauled due to the new laws, and the commission agents who help in providing loans to them will also get out of this business.
The important demand of farmers is to withdraw these three laws, which they claim that these laws remove the sale of their crops from regulation. These farmers are also insisting on withdrawing the proposed Electricity (Amendment) Bill 2020. They fear that the subsidy they receive in electricity will end after this bill takes the form of law.
Laws about which farmers are protesting include the Farmers Produce Trade and Commerce (Promotion and Simplification) Act – 2020, Farmers' (Empowerment and Protection) Price Assurance and Agreements Act – 2020 on Agricultural Services and Essential Commodities (Amendment) Act – 2020. Huh.



www.indiatv.in