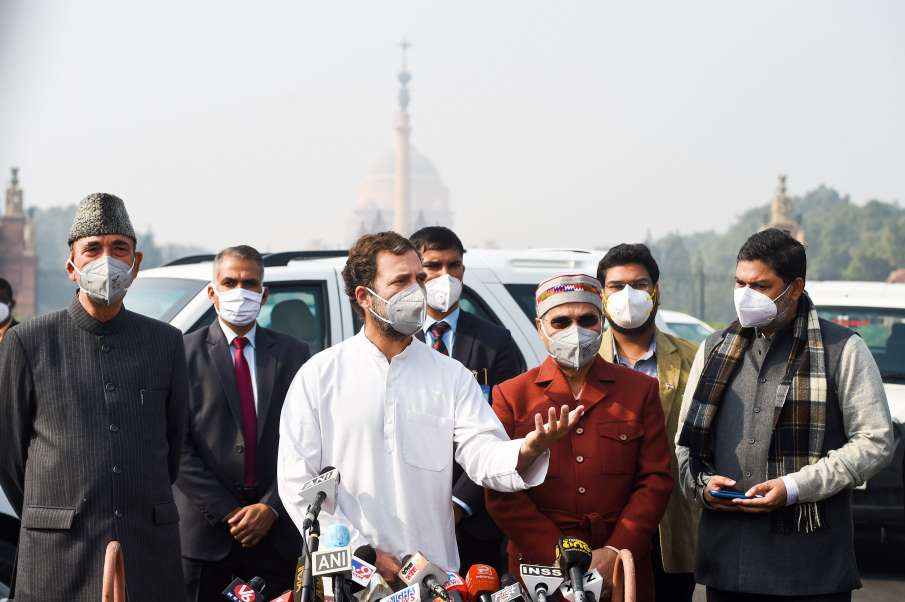 New Delhi: Targeting Prime Minister Narendra Modi on the issue of new agricultural laws, former Congress president Rahul Gandhi claimed that those who raised voices against the PM were called terrorists or anti-nationals. Rahul Gandhi said that if someday RSS chief Mohan Bhagwat was also against Modi, he would also be called a terrorist. He also alleged that democracy is no longer in the country and it is now only in imagination. After meeting President Ramnath Kovind while leading a party delegation regarding the three agricultural laws, Gandhi also said that the government should call a joint session of Parliament and withdraw these laws.
The delegation also included Leader of Opposition in Rajya Sabha Ghulam Nabi Azad and Congress leader in Lok Sabha Adhir Ranjan Chaudhary. Talking to reporters, he claimed, "The Prime Minister's only goal is to make money for two to four big capitalists." Whoever stands against Narendra Modi is called a terrorist. If the farmer stands up, he will be called a terrorist, if the workers stand up they will be called a terrorist. If someday Mohan Bhagwat also stands up against him, he will also call him a terrorist.
He said, "Whoever tries to take power from them will be called terrorist and anti-national." In response to a question, Rahul Gandhi said, "There is no democracy in India, it is not in the country, only in reality. It is in the imagination. "He alleged," The Prime Minister is an incompetent person who is running this system on behalf of three to four people ". He also said that the idea of ​​India is under attack and the country is very The Congress is on a dangerous path, which is why the Congress stands in protest today.
The Congress leader said, "Crores of people are connected with agriculture and these people are the backbone of the country. We believe that the agriculture sector should improve. But if agriculture is destroyed, crores of people will have to suffer a lot. "He told," We told the President that these laws are anti-farmer and this is going to cause a lot of damage to workers and farmers and farmers. Stands against these laws. "
Gandhi said, "The Prime Minister should not think that these workers and farmers will go back." Until these laws are withdrawn, these farmers will not back down. "He said," Call a joint session and withdraw the laws. "The Congress leader claimed that if the Prime Minister did not withdraw the laws, only BJP And not only the RSS, but the country is going to suffer. He said that a memorandum has been given to the President with two crore signatures.



www.indiatv.in