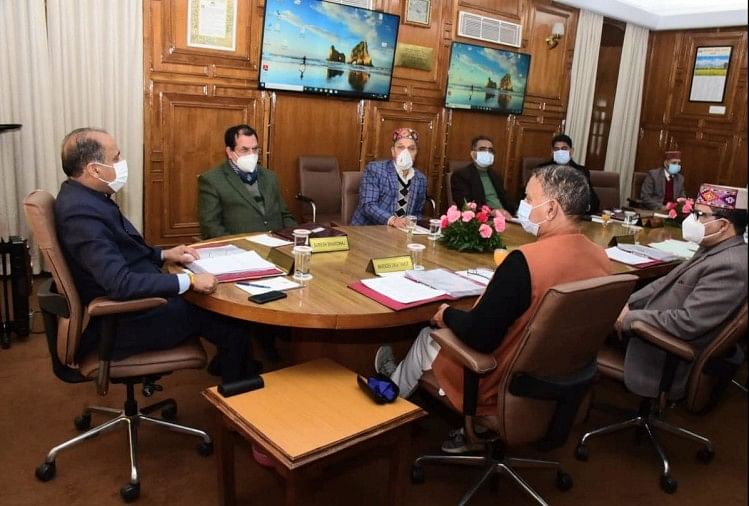 India News
Himachal Cabinet Meeting Decisions: Night Curfew Relaxation Increased in Four Districts, Markets Will Remain Open On Sunday
On December 23, 2020 by admin
Amar Ujala Network, Shimla
Updated Wed, 23 Dec 2020 07:42 PM IST
Himachal cabinet meeting
– Photo: Amar Ujala
Several important decisions have been taken in the Himachal Pradesh Cabinet meeting held on Wednesday under the chairmanship of Chief Minister Jairam Thakur. The cabinet has given some relaxation in the night curfew implemented in four districts of Shimla, Mandi, Kullu and Kangra to prevent the spread of corona virus. Now the night curfew will be from 10 to 6 in the night in these districts. The curfew remains in force from 9 o'clock at night. Along with this, the cabinet has also approved to open the market on Sunday. This decision has been taken after considering the demand of the general public and various trade associations. However, the condition of maximum 50 people will still remain in the social ceremonies. At the same time, the Health Secretary made a presentation before the cabinet regarding Corona. It was informed that a decrease is now being registered in cases of corona virus in the state. Night curfew has been continued to prevent corona.
It has also been decided to give holidays in the summer vacation schools till 12 February 2021. On the lines of winter schools, these schools will also have a holiday. Schools will be closed all over the state till 12 February 2021. However, online studies will continue in schools. Meanwhile, in the matter of fees of private schools in the state, the cabinet has decided to set up committees under the chairmanship of Deputy Commissioners in all districts. The District Deputy Director of Higher and Elementary Education will be its members. These committees will take the next decision regarding the fees of private schools. The fees will be decided in such a way that no parent is exploited by calling the records of the schools.
During the elections of Panchayati Raj Institutions and Municipal Bodies, there was a detailed discussion in the Cabinet about taking precautions against Corona. The Himachal Pradesh Election Commission has already issued the Standard Operating Procedure (SOP) regarding the election. The cabinet agreed to allocate 104 MW Tandi, 130 MW Rashil and 267 MW Satch Khas hydropower projects to SJVNL in Chenab Valley. This allocation will be in accordance with the terms of the three projects previously allocated to SJVNL in Chenab Basin. The cabinet decided to fill two posts of Assistant Registrar Cooperatives in the Cooperative Department by direct recruitment.

www.amarujala.com