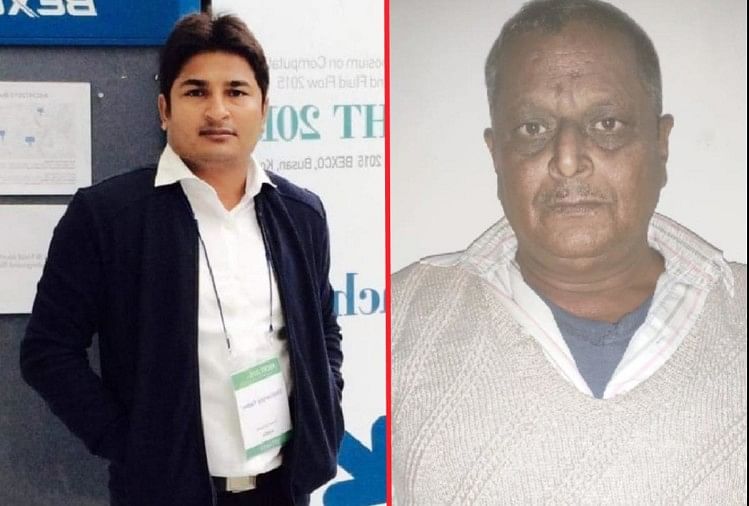 India News
Gorakhpur doctor Dhananjay Yadav at Stratford University of America list
On December 23, 2020 by admin
Doctor Dhananjay Yadav and father Ramdarsha Yadav.
– Photo: Amar Ujala.
Gorakhpur's Doctor Dhananjay Yadav is also included in the list of world's top scientists. Dr. Dhananjay is currently an Assistant Professor at the University of Nizwa Oman. More than 10 of his papers have been published in international papers and journals.
The team at Stratford University in the US has released a list of two percent of the world's top scientists. It has the names of such scientists, whose research work has contributed to the progress of related fields. In this list, Dr. Dhananjay Yadav, son of Ramdarash Yadav of Bansipur village of Janipur in Kaudiram region also includes.
Dr. Dhananjay has studied elementary and higher education from Gorakhpur. Dr. Dhananjay did not look back after completing his intermediate studies from Vanshi Inter College in Chilwan and Intermediate from Vidyapeeth Inter College, Kakarhi. Completed her B.Sc. degree from St. Andrews College. Then enrolled in the MSc course of Gorakhpur University campus. After this IIT reached Roorkee. From there, he did his PhD in Mathematics in the year 2013 and became an Assistant Professor at the University of Nizwa Oman. After this he went to South Korea and Canada for research. Dr. Dhananjay has done research in more than six fields. Some areas are still doing research. Due to Dr. Dhananjay's achievement, the people of the area and family are proud.
Dr. Dhananjay's research topics
Ceatu Capture, Storage and Oil Recovery, Fluid Mechanism, Hydro Dynamics and Hydro Magnetic and Environmental Analysis, among others.
Ramdarsha Yadav, a true enemy, got a place
A true conscientious hand is in helping Dr. Dhananjay Yadav, one of the world's top scientists. The scientist's father Ramdarsha Yadav has been distributing newspapers for the past 30 years. This trend is still going on.
Ramdarsha Yadav, resident of Bansipur village in Bansgaon tehsil area, has two sons and three daughters. Everyone was good at reading. Hence, Ramdarash started the work of letter distribution. Admission of children in government schools. Dr. Dhananjay was good in reading from the beginning and went ahead. Now we have achieved a big achievement.
Humrahi Ramdarash Yadav says that having become a son worthy has raised my head with pride. There is a name among the world's leading scientists. He says, father, now relax. Everything will happen, but we do not believe. He is 55 years old, yet he goes out daily to distribute newspapers. These days they only distribute Amar Ujala. They say that as long as there is strength, the newspapers will be distributed. With the help of this work, children have progressed by reading and writing.
Ramdarsha Yadav, an eighth pass himself, tells Shan that his son has done PhD in mathematics. What more happiness can happen to a father than this. The son is worth, yet married in a normal family. Daughter-in-law Priyanjali also lives in Oman. Three daughters are married. Younger son Sanjay Yadav is a businessman. Ramdarash's wife died four years ago.
read ahead
Dr. Dhananjay's research topics

www.amarujala.com