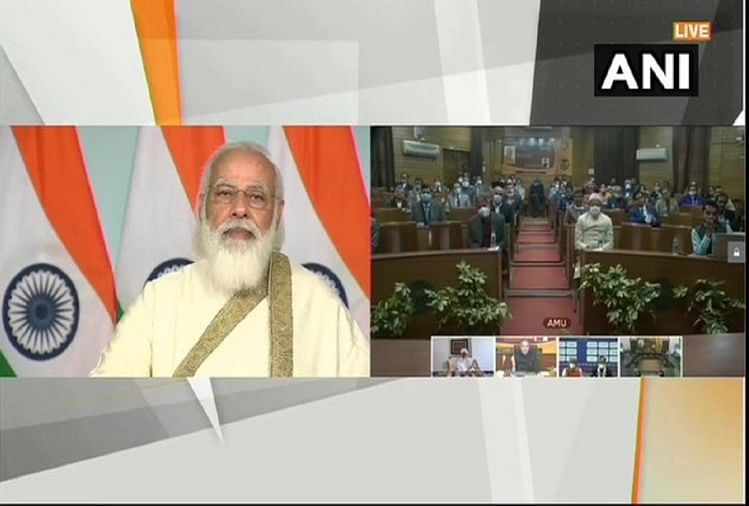 India News
PM Modi Addresses Aligarh Muslim University Centenary Program Here Are The Main Points Of Speech
On December 22, 2020 by admin
News Desk, Amar Ujala, Aligarh
Updated Tue, 22 Dec 2020 11:57 AM IST
PM Modi said in the program of Aligarh Muslim University
– Photo: ANI
abstract
Aligarh Muslim University is celebrating the centenary year this year. This is the occasion after 56 years in the history of AMU when the Prime Minister addressed the program of the university. Union Education Minister Ramesh Pokhriyal Nishank was also present on this occasion. The Prime Minister also released a postage stamp on the occasion of 100 years of AMU. Read here the big things about PM Modi's address in AMU program-
Detailed
Students passed from AMU are not only in India but also abroad. I have found many enumerators who proudly state that I have studied from AMU. AMU is not just a building but history. It is an invaluable heritage of the country.
The AMU campus is a mini India in itself. The country is on a path where no one is left behind because of religion. Here the spirit of One India Best India is getting stronger.
I was told by a former student of AMU that under Swachh Bharat Mission, when more than 10 crore toilets were built in the country, everyone benefited. There was a time when the school drop out rate of Muslim daughters in our country was more than 70 percent. It was under these conditions that the Swachh Bharat Mission started. Villages became village toilets. Toilets in schools were made for school going daughters. Today the school drop out rate of Muslim daughters has come down to 30 percent.
In the last six years, about one crore Muslim daughters have been given scholarships by the government. Women need to be educated so that they know about their rights.
50 crore people got free treatment up to Rs 5 lakh under Ayushman scheme without any discrimination. What belongs to the country belongs to every countryman and every citizen should be benefited, our government is working with this spirit.
The plans that the country is making today are reaching every section without distinction of religion. Bank accounts of over 40 crore poor opened without discrimination. Without discrimination, more than 2 crore poor were given pucca houses. Over 8 crore women got gas connections without discrimination.
The interest of students has been kept in mind in the new education policy. It has given place to the aspirations of the youth of India. This will help the students to take decisions regarding their education.
The government is also working to increase the number of seats and students in higher education. In 2014 we had 16 IITs, which are now 23. In 2014 there were 9 IIITs in our country, which are now 25. In 2014 we had 13 IIMs, today their number is 20.
We all aim to make the country self-sufficient. Ideological differences are natural in the society, but in achieving the goals of the nation, we should put aside all differences. We will be happy if we get suggestions from AMU to make India self-reliant.
When we talk of a new India, it is also at its core that the development of the nation should not be viewed from the political prism. Though some elements may be troubled by this, but they are people who will spread all kinds of negativity to prove their selfishness.
I once again congratulate all of you for completing 100 years of AMU and also commemorate the great men who have contributed to take the dignity of this institution to new heights in these 100 years. Best wishes for AMU's answer future. To fulfill your dreams we too will never be left behind.

www.amarujala.com