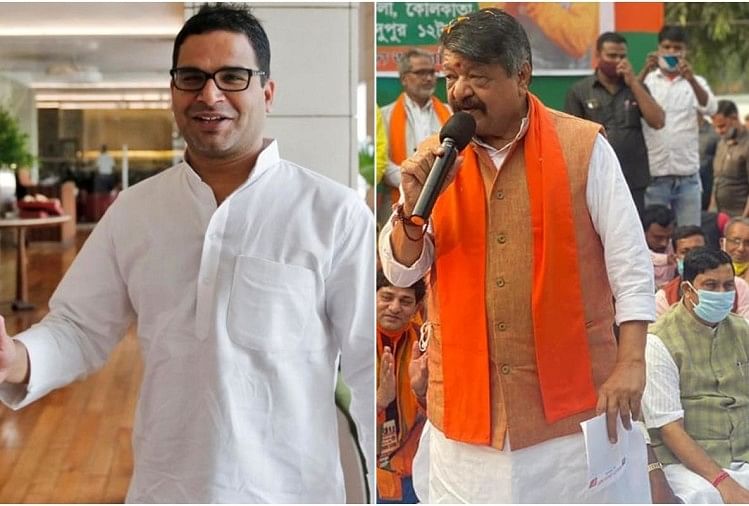 India News
West Begal Pk Says Bjp Will Struggle For Double Digit Viajyvargiya Hit Back Country Will Lose Election Strategist Malviya Tmc
On December 21, 2020 by admin
News Desk, Amar Ujala, Kolkata
Updated Mon, 21 Dec 2020 12:07 PM IST
Prashant Kishore-Kailash Vijayvargiya (File Photo)
– Photo: PTI
Assembly elections are due in West Bengal next year, but the political situation is already over. While the BJP is trying to make inroads in the state, the ruling Trinamool Congress (TMC) has a challenge to save its power. The rebels have increased the tension of the party. Meanwhile, the party's election strategist Prashant Kishore has claimed the BJP. He says that the party will not be able to reach the double figures in the state. BJP leader and Bengal in-charge Kailash Vijayvargiya hit back at Kishore. He said that after the elections, the country will have to lose one of its election strategists.
BJP will not even be able to touch the double figures in Bengal

Prashant Kishore tweeted on Monday, 'A section of the media is trying to create an atmosphere in support of the BJP, in fact the BJP will also fight for double digit (double digit) in West Bengal. Please save this tweet and if the BJP performs better than this, then I will stop doing this work.
Country will have to lose electoral strategist: Vijayvargiya
BJP national general secretary Kailash Vijayvargiya lashed out at Prashant Kishore, saying, "This country will have to lose an election strategist after the BJP forms a government tsunami in Bengal."
Also read- Bengal: Mamta gave an ultimatum to Prashant Kishor! PK made this prediction about BJP
Demographic changes are being ignored for political interests
BJP IT cell in-charge Amit Malviya has attacked TMC. He tweeted, "TMC Minister Firhad Hakim mentioned Matiabruz constituency as Mini Pakistan. Here last year alone, the number of voters has increased by more than nine percent. Didi is quietly ignoring the demographic changes of West Bengal to fulfill her political interests. Is the Election Commission watching it? '
Mamta gave ultimatum to Kishore
Mamta has given an ultimatum to PK in view of the rebellion of the party leaders. If she fails to control the situation, Mamata herself will take the final decision. The party is now under Damage Control after several leaders, including TMC strongman Suvendu Adhikari, left the party. Mamta Banerjee herself has to go to the ground to bridge the rift in the party.

www.amarujala.com