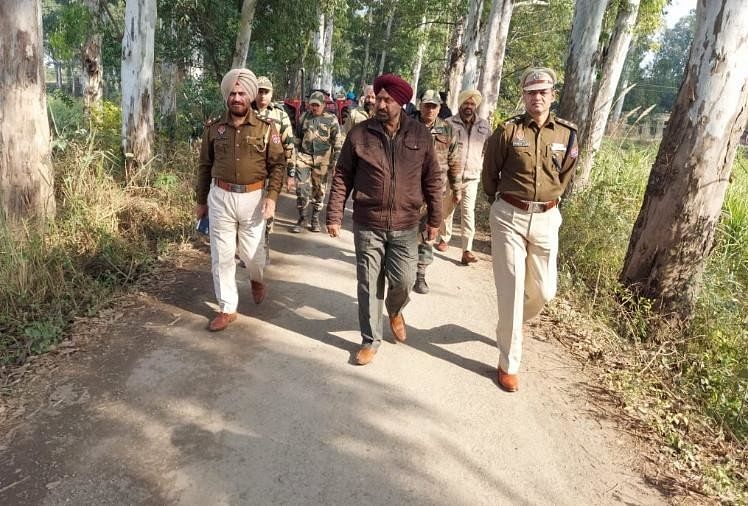 India News
Punjab Police Recovered 11 Grenades From Border Village – Punjab: 11 grenades sent by drone from Pakistan
On December 21, 2020 by admin
Samvad News Agency, Gurdaspur (Punjab)
Updated Mon, 21 Dec 2020 12:03 PM IST
The police team patrolling the area after receiving the grenade.
– Photo: Dialog News Agency
Punjab Police has been successful in recovering 11 grenades sent by drone from Pakistan. The grenades were recovered from Salach, a village in Dorangla town on the Indo-Pakistan border in Gurdaspur, Punjab. The grenades were dropped about a quarter of a kilometer from the outskirts and were quite well packed. Two people were arrested on suspicion by the police, but no link has been revealed in the investigation. A case under the 3,4,5 Explosive Substances Act 1908 has also been registered at Police Station Dorangala.
At around 11:30 pm on December 19, 58 battalions of BSF heard the sound of drones coming from Pakistan near BOP Chakkari. There were also 18 rounds of fire from BSF personnel. After this, a search operation was also carried out by teams of BSF, Punjab Police and other agencies in the areas near the border. During this search, these grenades have been recovered from Gurdaspur.
SSP Gurdaspur Rajinder Singh Sohal said that in the past few days a drone was reported from Pakistan in Chakkari village of Dorangla and a search operation was also carried out by the police. Police were searching in the border villages Salach, Miani, Chakkari etc. During the search itself, the police team found 11 grenades packed Shinkajenuma (egg packing) in Salach at around 6 pm on Sunday.
SSP Singh said that there is no mark on these grenades. Only after investigation will you know where it is made. He said that after receiving the grenade, police investigated two people on suspicion. But none of his links were revealed. A case is also being investigated very closely in this related station, Dorangla. Reiki was infiltrated several times in this border areas by drone from Pakistan, which has been stopped many times by BSF personnel.

www.amarujala.com