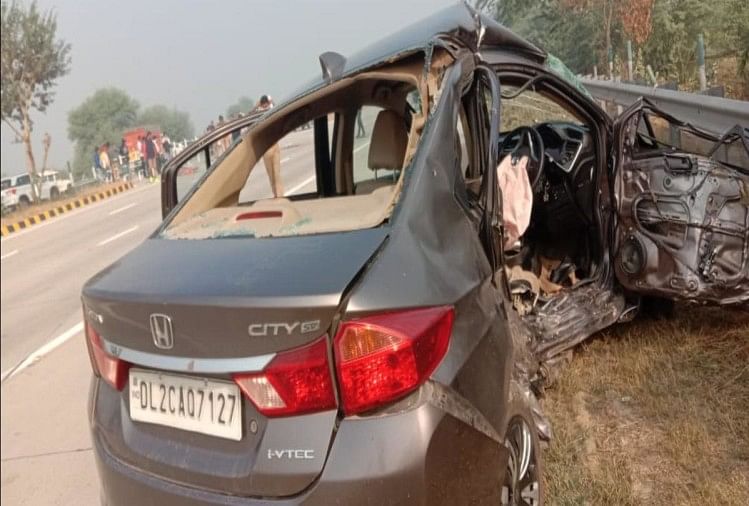 India News
Five Persons Died, After Traveling In Car Collided With Truck In Bandol Area Of Seoni District – Car Slammed Into Standing Tanker, Five Families Dead, Three Serious
On December 21, 2020 by admin
Symbolic picture
– Photo: Amar Ujala
On Monday evening, a speeding car in Seoni district entered a tanker on the Jabalpur-Nagpur National Highway-44 near Alonia toll plaza under Bundol police station, killing five people including three women of the same family in the car. She and three others were seriously injured.
Bundol police station in-charge Dilip Pancheshwar said that at around 6 pm on Monday evening, the speeding car entered a tanker parked near Alonia toll plaza. Due to this, five of the eight people in the car died on the spot. These include three women and two men.
He said that three other people in the car were also seriously injured in this accident, who have been admitted to the district hospital for treatment. Pancheshwar said that all the dead and injured are from the same family. He said that the dead included Vijay Bahadur Patel, his wife Sarita, his son Ajay Kumar, Radha Patel and another woman. At the same time, the injured include Vijay Bahadur's daughter Chandana (20), Radha's son Pankaj Patel (4) and Shreya (9).
Pancheshwar said that according to preliminary information, at the time when the accident took place, the Patel family was returning from Benaras (Uttar Pradesh) to Bengaluru, Karnataka. He said that this horrific accident was captured in the CCTV camera installed in the toll plaza. Vijay Bahadur Patel was driving the car.
Pancheshwar said that the speed of the car was so fast that after the collision the tanker weighing several tons moved forward very fast and the front part of the car broke down. Later toll employees reached near the car and took out the dead and injured.

www.amarujala.com