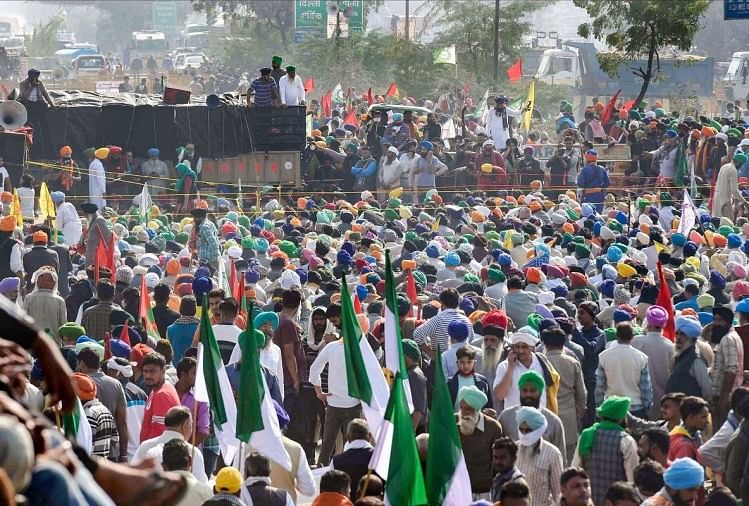 India News
Central Government Has Agreed To Talk To The Farmers – Government Invites Farmers Organizations for Sixth Talks, Five Meetings Unsatisfied
On December 21, 2020 by admin
The central government on Sunday invited farmers organizations protesting against the three agricultural laws on various borders of the capital Delhi for talks and asked them to set a date.
Vivek Agarwal, Joint Secretary, Union Ministry of Agriculture and Farmers Welfare, has written a letter to farmers' organizations in this context. It is noteworthy that the Central Government had constituted a Ministerial Committee under the chairmanship of Union Agriculture Minister Narendra Singh Tomar to talk to farmers. Union ministers Piyush Goyal and Somprakash are its members.
So far, five rounds of talks have been held with the government which have failed. Farmers' organizations have once held a meeting with Union Home Minister Amit Shah, but the result has been zero.
Significantly, thousands of farmers are stuck on the borders of Delhi, demanding the withdrawal of new agricultural laws. The central government is introducing three new agricultural laws passed in September as major reforms in the agricultural sector, while the farmers who are demonstrating have expressed fears that the new laws will end the MSP (minimum support price) and mandi system and they will The big corporate will be dependent on it.
Progress not seen in talks with government: farmers union
The agitation of 40 farmers' organizations on Sunday demanded 25 days of complete withdrawal of new agricultural laws. Meanwhile, despite several rounds of talks with the government, the farmer leaders failed to end the deadlock. Unions have said that they do not see any change in the attitude of the government.
Manjit Singh Rai, president of Bhartiya Kisan Union, frozen on the Singhu border, said that the government was hanging our case unnecessarily. He should withdraw this law now and send the farmers to their homes.
Although the government has said that a solution will come out before the new year, but we do not see any hope. He said that the cold is increasing day by day and troubles are also increasing for the elderly. Manjit Singh alleged that the government is talking big things in front of the media, but nothing has really changed.

www.amarujala.com