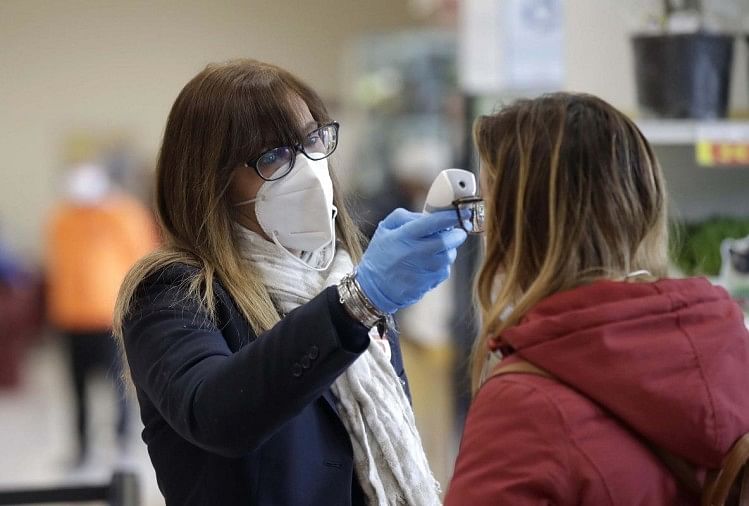 India News
Tier 4 Restrictions in Britain after New Corona Virus Strain Found – Coronavirus in Britain: New strain of Corona virus wreaking havoc in UK, Tier 4 ban imposed
On December 20, 2020 by admin
Corona virus is constantly affecting people in the world. For this reason many countries of the world are putting restrictions again. At the same time, a new type of corona virus is responsible for spreading the infection in Britain. The stringent ban has been announced after the UK government issued a warning to opt out of new types of viruses.
Britain itself has admitted that new strains of corona virus have started to wreak havoc. Therefore the UK government has announced a Tier 4 ban. Tier 4 is the toughest ban announced in some areas of Britain. Also, the government has told what will be closed during this period and what will be open?
The government has warned sternly that the jobs of thousands of people working in places like swimming pools like gyms and leisure centers in Tier 4 areas are in danger. Even after the arrival of the Corona vaccine in Britain, all these can remain closed for a month.
At the same time, Health Secretary Matt Hancock said that the new Tier 4 restrictions imposed in Britain will not be lifted soon, unless the new strain is difficult to control or until we get the vaccine.
Hugh Edwards is the chief executive chairman of UK Active. UK Active is a body representing more than 4000 gyms and leisure centers. Regarding Matt Hancock's statement, he says that all types of business will be affected by Tier 4 restrictions, especially in areas with physical activity such as gyms, swimmingpools, whose demand increases significantly on the New Year.
He said the new Tier 4 ban in England would affect thousands of gyms, pools and leisure centers, which would also affect their future and people's employment. It also said that assistance from the government would be necessary for businesses to survive.
However, under the new rules, outdoor sports facilities including golf courses, tennis courts and outdoor swimming pools are permitted to be opened. In which a single person or a person from two different places can play together.
Also people are allowed to run with another person on the road and can also ride a bicycle. Along with this, the government has given permission to disabled people to play outdoor sports.
Most of the grassroots sports have been halted for 17.7 million (17 million) people in Tier 4, an area that encompasses the whole of London and most of the Southeast.
British Prime Minister Boris Johnson, announcing the restrictions, abruptly ended the plan to allow three families to sit together indoors for five days during the festive period. He also announced a tier-4 level ban, similar to the national lockdown implemented in March in London and Southeast England.
Hancock told Sky News, stricter restrictions that force nearly a third of England's population to remain indoors may continue to apply until the Corona virus vaccine becomes more widely available.
However, Leader of the opposition Labor Party, Kerr Starmer, criticized PM Johnson for taking a delayed decision for sanctions. He said, once again, the Prime Minister waited till the 11th hour to take a decision.
The warning bell rang several weeks ago, but the Prime Minister ignored them. He told the country to go ahead and have a small Christmas. Now three days later they are asking millions of families to end their plans.
The new virus is 70 percent more infectious than the original virus
The British minister says the new form of the corona virus, identified in Denmark, the Netherlands and Australia, is 70 percent more contagious than its original form, but there is no evidence as to whether it is the cause of the more deadly and serious disease. .
Concern in British virus also in India, meeting will be held today
The 70 percent more deadly replica of the corona virus found in Britain has also created an atmosphere of concern in India. The Union Health Ministry has called a joint monitoring group meeting on Monday to decide the steps to prevent the country from getting caught.
A joint monitoring group will meet on Monday under the chairmanship of the Director General of Health Services (DGHS) to discuss the new model of corona virus found in Britain, a source said. World Health Organization (WHO) representative in India, Dr. Roderico H. Offrin is also expected to attend the meeting.
Dr. Offrin has also been included as a member in the Joint Monitoring Group by the Government of India. Let us tell that many European countries have already banned planes coming from Britain to stop the spread of this deadly model of the virus.
Many countries stopped British flight due to new form of virus
Several European Union countries banned flights from Britain on Sunday. This step has been taken after the new version of the corona virus was caught in Britain. France, Germany, Netherlands, Belgium, Austria, Italy and Sweden were among the countries to declare travel restrictions for Britain.
The Czech Republic has declared harsh quarantines for those coming from Britain. Eurostar, which operates high-speed trains across Europe, has canceled all trains running between London, Brussels and Amsterdam.
However the London-Paris Railroad will remain operational. In countries other than Europe, Israel has also stopped flights coming from Britain, Denmark and South Africa. On the other hand, Ireland has also stopped the movement of aircraft and ferry services from there, sealing the borders with Britain.

www.amarujala.com