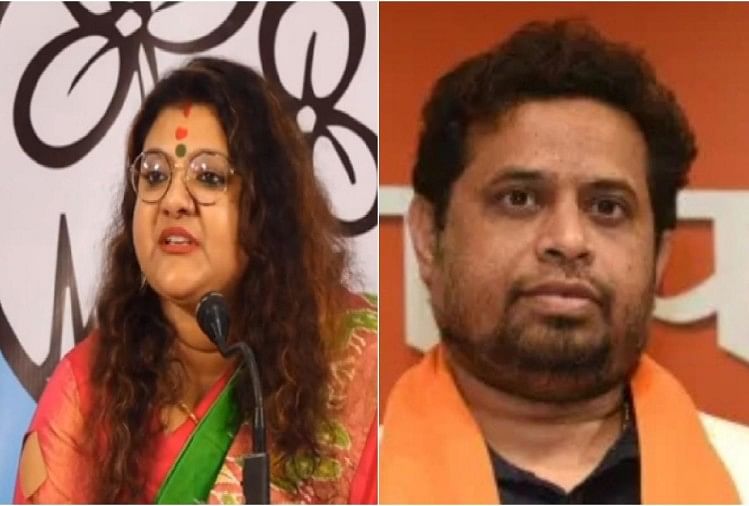 India News
Sujata Mondal Khan Joins Trinamool Congress Husband And Bjp Mp Saumitra Khan To File For Divorce – Political fight to the house! MP Soumitra Khan angry over wife Sujata joining TMC, sends divorce notice
On December 20, 2020 by admin
News Desk, Amar Ujala, Kolkata
Updated Mon, 21 Dec 2020 03:11 PM IST
Sujatha Mandal Khan-Soumitra Khan (File photo)
– Photo: ANI
Party-change has begun before the assembly elections in West Bengal. Sujata Mandal Khan, wife of BJP MP Soumitra Khan, joined the Trinamool Congress (TMC) in the capital Kolkata on Monday. At the same time, some media reports are said that the BJP MP has become so angry with his wife joining TMC that he has decided to send a divorce notice to his wife Sujatha.
Soumitra Khan is currently the president of the Bharatiya Janata Yuva Morcha and MP from Bishnupur in West Bengal. Sujata Mandal Khan joined the party in the presence of ruling party MP Saugata Roy and spokesperson Kunal Ghosh. At the same time, now BJP MP Soumitra Khan has decided to send him a divorce notice. During the decision to send divorce notice, security of Sujata Khan's car and Barjora home has been withdrawn.
On the other hand, after joining TMC, Sujatha Mandal Khan said, there is no respect for women in BJP and that was the reason why they decided to break away from it and join Mamta Banerjee's organization.
Also Read: Jolt to BJP in Bengal, Sujata Mandal, wife of MP Soumitra Khan joins TMC
He accused the BJP of not giving due credit to hard-working party workers. Taking a dig at the BJP, Sujata said, BJP has six chief ministers and 13 deputy CM faces! There is no CM face of BJP in the state. She said that as a member of the BJP she felt embarrassed when questions were raised about the CM face of the BJP.
Asked if her husband, who is a BJP MP, would join the Trinamool Congress, Sujatha did not rule out the possibility of Soumitra joining the ruling party. He said that no one knows what will happen in the future.
Also read: If BJP wins then only Chief Minister will be made from the soil of Bengal: Amit Shah
Significantly, TMC chief leader Suvendu Adhikari joined the BJP during Home Minister Amit Shah's visit to Bengal. Apart from the officer, 34 other TMC leaders including five MLAs and an MP joined the BJP in Shah's presence during a huge rally in Mednipur.

www.amarujala.com