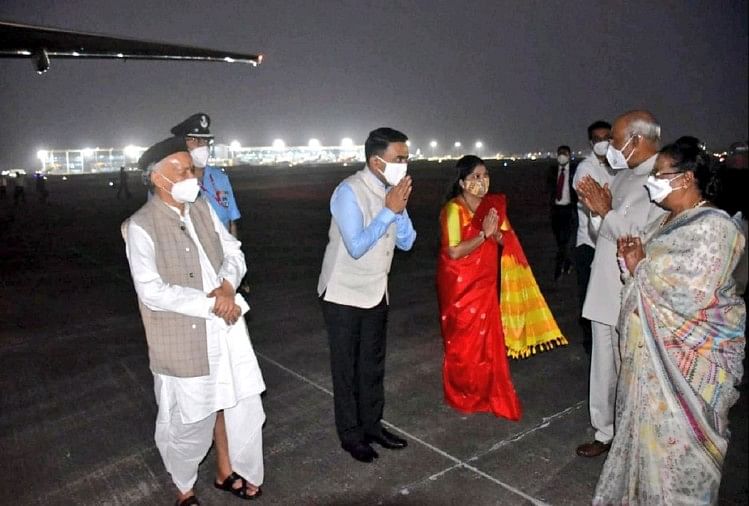 India News
Goa Cm Pramod Sawant and His Wife Sulakshna Meet President Ramnath Kovind – Goa Chief Minister and his wife meet President, gifted special type of saree
On December 20, 2020 by admin
News Desk, Amar Ujala, Panaji
Updated Sun, 20 Dec 2020 11:24 PM IST
Goa Chief Minister Pramod Sawant and his wife Sulakshana met President Ram Nath Kovind at Raj Bhavan here on Sunday and gifted him a 'Laman Diva' and a Kunbi sari. Both these things symbolize the identity, culture and rich history of the coastal state.
Kovind is on a two-day visit to the state to attend the 60th anniversary celebrations of Goa's independence from the occupation of Portugal. The 'Laman Diwa' is a brass lamp, while the Kunbi saree is a traditional women's dress in Goa.
The Chief Minister tweeted after meeting the President that as a token of love on behalf of Goans, presented a Laman Diva and a Kunbi sari to the Honorable President Ramnath Kovind ji and the First Lady (his wife) Smt. Savita Kovind, who were identified as Goa , Display culture and rich history.
The President visited the temple during his visit to Goa
Panaji, 20 December (Language) President Ramnath Kovind went to the famous Mahalsa Narayani temple in Mardol, 15 km from here on Sunday, on the last day of his two-day visit to Goa and blessed a couple, who were getting married there.
On the occasion of the completion of 60 years of Goa's independence from Portuguese rule, Kovind came to Goa on Saturday to participate in many celebrations. Rashtrapati Bhavan tweeted that it is not often that the wedding venue and the President's function in a temple are held simultaneously at the same time and day.
But this is when President Kovind went to the Mahalsa temple in Goa today. He blessed the newlyweds and made it more memorable. Officials said Governor BS Koshyari and Chief Minister Pramod Sawant bid farewell to President Kovind at the airport.

www.amarujala.com