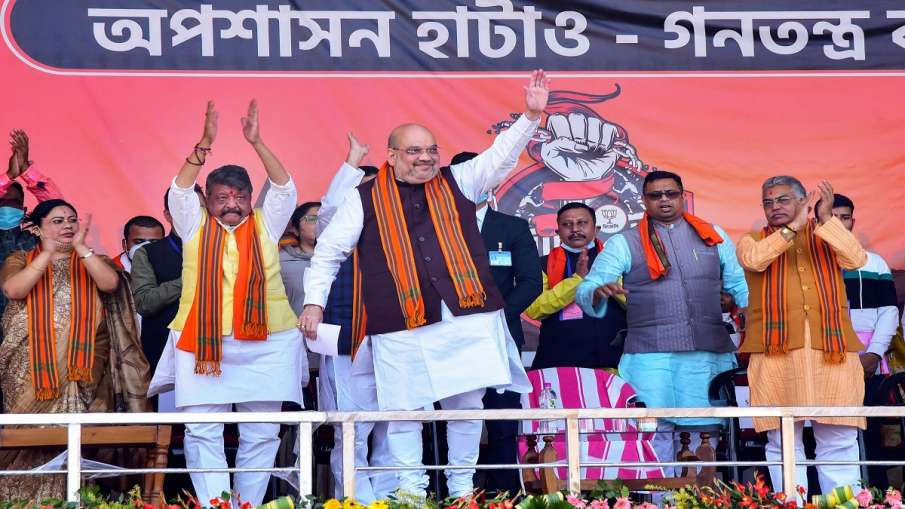 Kolkata. To demolish Mamata Banerjee's fort in West Bengal, the Bharatiya Janata Party has focused on ten thousand small and big social and religious institutions, which have a great influence among Hindu voters. BJP has started public relations campaign by forming several groups with the officials of these social organizations. Party sources say that the meeting of intellectuals and other sections of the society with intellectuals and other sections of society along with visiting the birthplace of great men during West Bengal tour is part of the strategy to connect every section with the party. Hindus in West Bengal also have different sects and classes, which decide their stand according to organizations like Ramakrishna Mission, Bharat Sevashram Sangh, Hindu Milan Samaj, ISKCON etc.
Read- Big news from Nepal! KP Sharma Oli recommends dissolution of parliament, ruckus in the party
Home Minister Amit Shah went to the Ramakrishna Mission on Saturday and started a two-day tour of West Bengal. He went to the Ramakrishna Mission and offered flowers to the statue of Swami Vivekananda. Swami Vivekananda has great acceptance in Bengal. The public considers him his ideal. A Ramakrishna Mission in West Bengal has about 5 million followers, a BJP leader told IANS. Swami Vivekananda raised the value of India in the world, but the current Trinamool Congress government did not take any initiative towards furthering the teachings of Swami Vivekananda nor the work of Ramakrishna Mission. Now the BJP will carry forward the legacy of all the great men of West Bengal.
Read- Kisan Andolan: ultimatum to farmers' administration at Ghazipur border
Mamata Banerjee's Trinamool Congress's election strategy in West Bengal is on the shoulder of Prashant Kishore (PK). Whereas BJP is trying to counter every strategy of Mamata Banerjee through many thinktacks. One such think tank is the Shyama Prasad Mukherjee Research Foundation. This thinktank, operated from Delhi's Ashoka Road, is also playing an important role in deciding the BJP's strategy in West Bengal. Foundation Director Anirban Ganguly was also present during the visit of Home Minister Amit Shah.
Read- PM said- India's farmer cannot live in backwardness anymore, know 10 big things about speech
The BJP's think tank is working on a strategy in line with the Trinamool Congress in West Bengal. Initially, when the BJP started raising slogans of Jai Shri Ram in the programs, Mamata Banerjee said that it should impose cultural nationalism of North India on the people of Bengal. On which the BJP think tank immediately changed its line and started emphasizing on the cultural nationalism of Bengal. Seeing the huge number of followers of Maa Kali in West Bengal, all senior BJP leaders visit the Dakshineswar Kali temple during every visit. Thus, now the BJP has focused on Mother Kali instead of Shri Ram.
Read- Kisan Andolan Live: Farmers Organization wrote open letter to Prime Minister and Agriculture Minister
The BJP has formed committees for public relations with religious and social organizations in every district. These committees are working under the direction of former MP and BJP National Secretary Anupam Hazra. Anupam Hazra has been a Trinamool Congress MP from Bolpur. Due to anti-party activities, he joined the BJP before the Lok Sabha elections. However, he lost the election from Jadavpur Lok Sabha seat on a BJP ticket.



www.indiatv.in