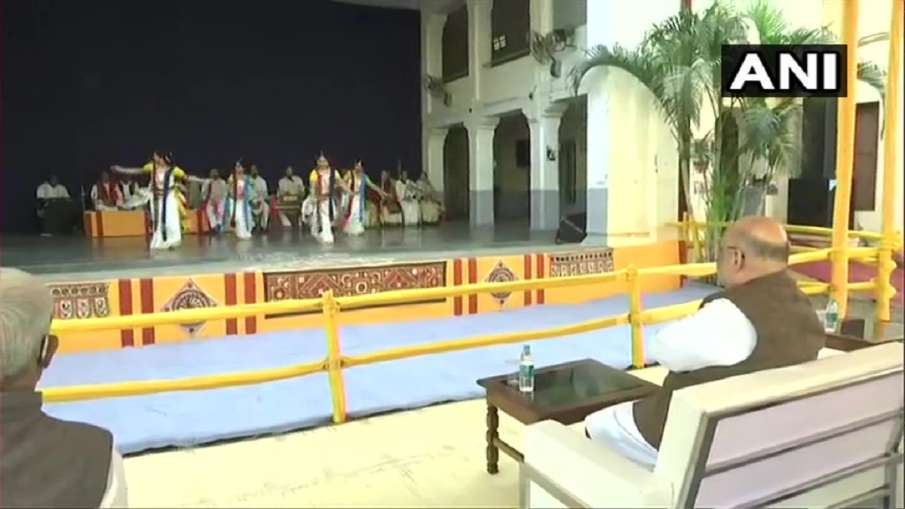 Shanti Niketan. Union Home Minister Amit Shah is on a tour of West Bengal. On Sunday, he reached Visva-Bharati and paid homage to Gurudev Rabindranath Tagore at Rabindra Bhavan on the university campus. Amit Shah visited the Upasana Griha and Sangeet Bhawan, where university students would perform Rabindra Sangeet as part of a cultural program. Amit Shah paid floral tributes to Gurudev Tagore at Rabindra Bhavan on the university campus. Amit Shah arrived at the Central University for more than one and a half hours amid tight security.
After departing from here, Amit Shah said that today is a day of great fortune for me that I got a chance to go to Visva-Bharati to pay tribute to the great man who has strengthened the resonance of Indian knowledge, philosophy, art, literature across the world. I spent some time where Guru Dev and Mahatma Gandhi stayed.
Shubhendu Adhikari and nine MLAs joined BJP yesterday
Shubhendu Adhikari, who was the face of the Nandigram movement in West Bengal, joined the BJP on Saturday along with nine MLAs and a Trinamool Congress MP. The political developments showed the morale of the saffron party in the state and Union Home Minister Amit Shah lashed out at Chief Minister Mamata Banerjee and said that she would be left alone in her party till the assembly elections. Adhikari was the second prominent leader in the Trinamool Congress after Mamata in the state with a large base. He resigned from the state cabinet, assembly and Trinamool Congress.
At the same time, joining the BJP on Saturday, putting a stop to the months-long speculation, which has emerged as a strong contender in the state ahead of the upcoming assembly elections. The election in the state is likely to be held in April-May 2021. The erstwhile Trinamool officials can damage Mamata's attempt to hold power in the state for the third consecutive time. In fact, the officer's family has a significant influence on about 35-40 assembly seats in the Junglemahal region and adjoining districts.
His father Shishir Adhikari and brother Divyendu are Lok Sabha members and another brother is an MLA. Although other members of Adhikari family did not join BJP on Saturday, they are likely to stand firmly behind Shubhendu Adhikari. Sources close to him gave this information. Other leaders who joined BJP in Shah's rally include Sunil Mandal, a two-time MP from Trinamool Congress from Vardhman East Lok Sabha seat, Trinamool Congress MLA Banashree Maiti, Sheelbhadra Dutta, Vishwajit Kundu, Shukra Munda and Saikat Panja, CPI's Tapasi Mandal, CPI K Ashok Dinda and Congress MLA Sudeep Mukherjee.



www.indiatv.in