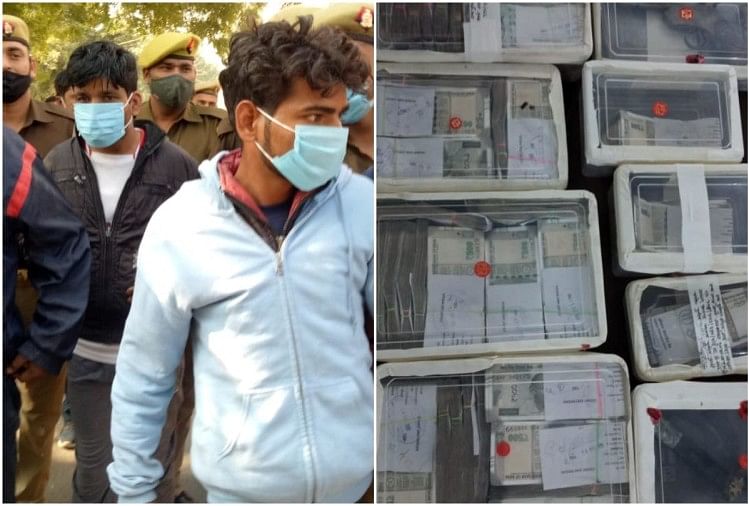 India News
Agra Bank Robbery Case News: Five Accused Arrested – Agra Bank Robbery Revealed: Employee turned Mastermind, Five arrested, Rs 32 lakh recovered
On December 20, 2020 by admin
Back robbery case exposed
– Photo: Amar Ujala
abstract
During interrogation, the police have come to know that the crooks had entered the bank after receiving the All OK code word and escaped after committing the robbery in 15 minutes. A rogue seen in CCTV footage was identified by a prison inmate. With this clue, the police reached the miscreants.
Detailed
On December 15, a robbery of Rs 56.94 lakh was made by a temporary bank employee at the Indian Overseas Bank branch in Roht, Agra. The police revealed the robbery case on Monday after arresting five accused, including a bank employee. Two women are also among the accused.
Cash worth Rs 32 lakh has been recovered from the accused. The four accused are absconding. The police is raiding them for their arrest. ADG Ajay Anand told that soon the absconding accused will be arrested and the rest of the robbery amount will be recovered.
Police reached such robbers
The CCTV camera on Jagner Road from Kheria bend saw two miscreants riding bikes. One's face was clearly visible. It was identified as Sunny Jatav, a resident of Khandari. The police investigated him. His mobile number was found. Checked his call details on this.
Police found the number of Thakurdas resident of Khandari. Thakurdas turned out to be a friend of bank employee Puneet. His number was found in Puneet's mobile. Puneet and Thakurdas have a conversation. After this, the police strictly questioned Puneet, then on Sunday he unleashed the secret of robbery.
Police had suspected Puneet since the incident. He was crying out crying that the miscreants beat him a lot when there were no beating marks on his body. He was constantly being questioned but he was not spilling the secret. When the police got a clue, he threw out the truth.
Police arrested Puneet Kumar alias PK, Ranjit son Hazarilal, Thakurdas son Banwari Lal, Neeraj wife Manohar, Ranjani wife Thakurdas resident Khandari. Sunny alias Siddharth son Thakur Singh resident Naripura police station Shahganj, Bunty Jatav son Mahesh resident Khandari, Narendra Kumar son Banwari Lal resident Khandari, Tej Singh resident village Nagla Pratap are absconding.
read ahead
Police reached such robbers

www.amarujala.com