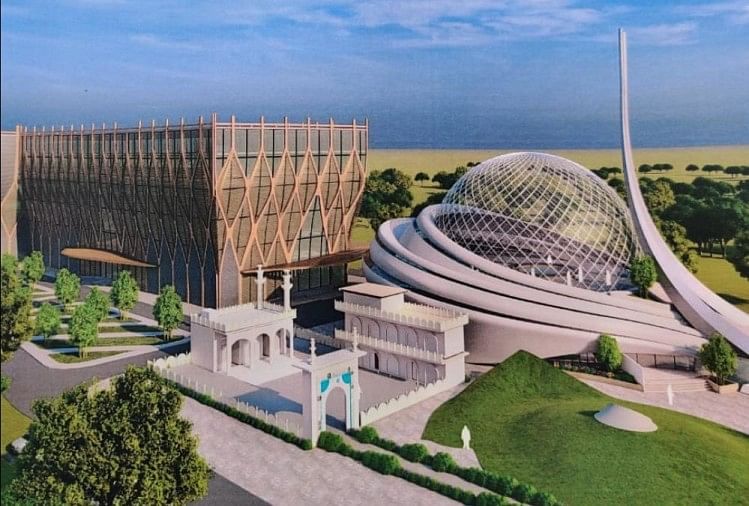 India News
Design for Mosque of Dhannipur Ayodhya Issued by Indo Islamic Cultural Foundation. – The first picture of the mosque to be built in Ayodhya came out, two buildings will be ready in five acres
On December 19, 2020 by admin
News Desk, Amar Ujala, Lucknow
Updated Sat, 19 Dec 2020 06:58 PM IST
Design of mosque to be built in Dhannipur.
– Photo: amar ujala
The design of the mosque to be built in Dhannipur, Ayodhya has been launched. Two buildings of mosque and hospital will be built on five acres of land. The mosque is designed by SM Akhtar. A library, museum and community kitchen will also be built on the campus along with the hospital.
The Indo-Islamic Cultural Foundation launched the Design and Architect on Saturday. Many other people were present on this occasion, including the president of the trust, Maulana Zufar Farooqui and Athar Hussain.
The mosque will have a seating arrangement of two thousand people simultaneously, while the hospital will be multispecialty. Solar energy will be used in the entire mosque complex. Once the map is passed, the work of building a mosque will begin. It is being told that construction will be completed in two years. The mosque will not have a dome. It will be shaped like the mosques of the Gulf countries.
The foundation of the mosque can be laid on Republic Day or Independence Day
The foundation of the mosque to be built in Dhanipur village can be laid on the occasion of Republic Day or Independence Day. However, no decision has been taken in this regard yet. Recently, the secretary and spokesperson of the trust Athar Hussain had said that if the first brick has to be laid to start construction, then there cannot be a better day for it than January 26 or August 15, because on January 26, the foundation of the country's constitution Was laid, while the country became independent on 15 August and the foundation of independent India was laid.
He said that the mosque to be built in Ayodhya will not have any mention of Babur or any related to it, nor will the mosque be named after any language or king.
read ahead
The foundation of the mosque can be laid on Republic Day or Independence Day

www.amarujala.com