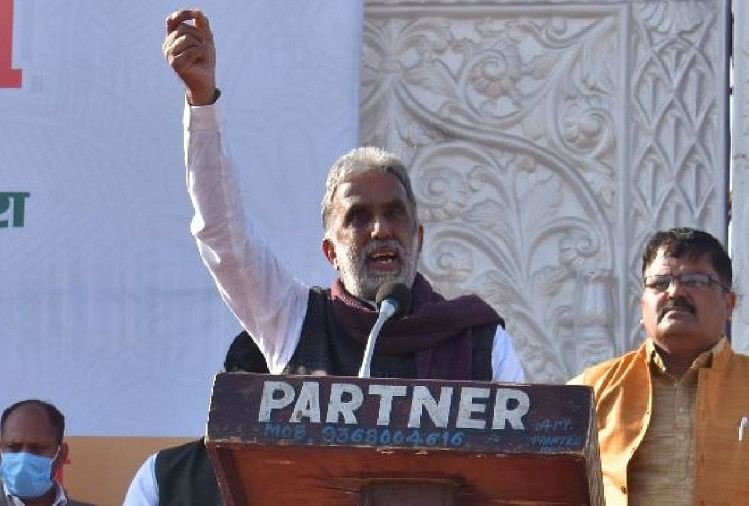 India News
Minister Krishan Pal Gurjar Big Remarks Over Farmers Protest – Big statement of Union Minister of State, said – Kisan agitation seen in the hands of anti-country forces
On December 18, 2020 by admin
News Desk, Amar Ujala, Agra
Updated Fri, 18 Dec 2020 8:41 PM IST
Union Minister of State Krishnapal Singh
– Photo: Amar Ujala
abstract
Union Minister of State said- Opposition parties want to spread chaos from behind the scenes, the central government is ready to accept every legitimate demand of farmers
Detailed
The Union Minister of State for Social Justice and Empowerment Krishnapal Singh Gurjar has said that the government is ready to address every doubt of the farmers. Posters of Sharjil Imam, Omar Khalid and Bhindranwale are being waved in the peasant movement. This movement is seen going into the hands of anti-country forces.
Krishnapal Singh Gurjar, who came to the Bharatiya Janata Party (BJP) Kisan Sammelan on Friday in Pathauli, Agra, told the media that he wanted to spread violence and anarchy in the name of opposition movement. Under whose rule the farmer reached a bad situation, the same people are confusing the farmers. I would like to tell the representatives of the farmers organizations that they should not work under the influence of anyone.
'BJP worked for the prosperity of farmers'
The Union Minister said that the BJP has worked for the prosperity of farmers during six and a half years. Whether it is about the Kisan Samman Nidhi or not to let the prices of DAP and Urea increase. There should be talk of increasing the compensation amount from Rs 1.5 lakh to Rs 4 lakh to the families of the farmers suffering from the disaster. There should be a case for purchasing the produce of farmers on MSP.
Everywhere the central government has placed the interests of farmers at the forefront. In such a situation, saying that farmers across the country are opposing these laws is wrong. Few people are misleading the farmers, whose intention the government will never allow. Every legitimate demand of farmers will be considered.
In response to a question, the minister said that the government has considered such things as not allowing the land to be occupied by farmers, the right to run in the civil court on the issue of farming, the state government's right to impose tax on private mandis. On the question of intervention of the Supreme Court, he said that he respects the Supreme Court. We are not like the previous governments which disobeyed court orders.

www.amarujala.com