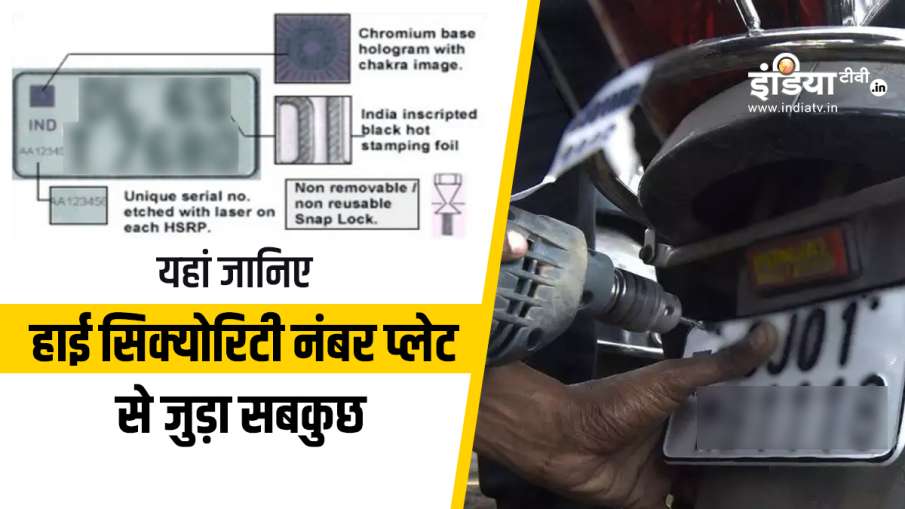 Delhi. After the new guidelines of the government, it has become mandatory to install high security registration plates (HSRP) and color stickers in vehicles. Actually HSRP makes your vehicle much safer. The Delhi government is also now doing home delivery of HSRP and it can also be booked online through a simple process. If you also want to book high security registration plate online then today we are going to tell you its process. There are problems in online applications in many places, then arbitrary prices are being replaced in place of number plates. For this you can get complete information of HSRP here.
Now high security number plate has become necessary for all vehicles of every state. Whether you have a two-wheeler or a four-wheeler, you will need to have a high security number plate. Also, color code stickers have to be used, which the government has prescribed. These number plates will be installed by automobile dealers in every state. Customers can start registering for their number plate on their state's High Security Registration Plate i.e. HSRP portal. Also, he can also check his status in the online process of registration. But the question is where to register and how much money will be spent.
Although the process of online registration may vary from state to state, but by this example you will get an idea of ​​how to apply online. For this, first go to the official HSRP website of your state. There you will have to give all the information you have chosen from your car, such as whether your car is private or commercial, two-wheeler or four-wheeler, which company belongs to, what is the number of the car and many other such information. There you will also have to choose your dealer from whom you have taken the vehicle, which will put a high security number plate on your car.
Know what is HSRP
Explain that the High Security Number Plate (HSRP) is a chromium based hologram. It has the engine and chassis number of the vehicle. It is designed keeping vehicle safety and convenience in mind. The high security registration plate is made of aluminum. A hologram is placed on this plate. The Ashoka Chakra is made on it. This hologram has a sticker on which the engine and chassis number of the car is printed. This hologram cannot be destroyed. The vehicle owner's registration number is also on the high security registration plate. There is a 7 digit unique laser code on the high security number plate which is different on every number plate. This allows the vehicle to be easily tracked.
Know your state's HSRP website like this
First of all it is necessary to know where to apply. The HRSP website is different for different states. You will get a link to your state's HSRP website on your state's website about what your state's HSRP website is. Or you can also get information by calling high security number plates customer care number 011-47504750. You can also find out the link to your state's HSRP website by emailing hsrp.customercare @ gmail.com, jdadmntpt @ hub.nic.in or [email protected]
How to apply for high security number plate
1. To book HSRP plate online then you www.bookmyhsrp.com You can book by visiting
2. After this, a full range of vehicles will open, there will be two-wheeler, three wheeler, four wheeler, heavy vehicle options, choose one of them.
3. Then you will have to choose which company your vehicle belongs to, there will be a complete list of it, like Maruti, Hyundai or Tata will have options.
4. As soon as you choose the name of the vehicle company, it will ask you the state, for example DL ie Delhi and UP ie Uttar Pradesh.
5. You will then see 2 options for Private Vehicle and Commercial Vehicle.
6. On clicking on the Private Vehicle tab, you will get options for Petrol, Diesel, Electric, CNG and CNG + Petrol, choose one of these.
7. After this, you will be asked the complete information of the car, such as what is BS, date of registration, registration number, chassis number, engine number, car owner name, e-mail ID, mobile number, billing address, city , If GST, give.
8. On uploading all this information a new window will open, RC and ID proof of the vehicle will have to be uploaded.
9. After uploading all the information and papers, OTP will be generated on the mobile phone.
10. The last option will be the payment option, the online booking process will be completed as soon as the payment is made.
Will charge so much
Registration fees for a four-wheeler range from Rs 600 to Rs 1100, while if you register for a two-wheeler, you may have to spend up to Rs 300-400. If a person applies for a high security registration number plate, then it will have to be seen that there is no pending challan of his vehicle. Vehicle registration has not been suspended and canceled.
Color coding is also necessary, a matter of relief
Along with high security registration, now a third registration mark will also have to be created on the number plate. In this, through the color, it has to be shown which fuel is being used in the vehicle. For this, color coding has to be done. The Delhi government has currently exempted vehicle owners who have applied for high security number plates and color stickers. They are not being fined. But they have to show the application slip, so if you have applied for HSRP then take these slip with you.



www.indiatv.in