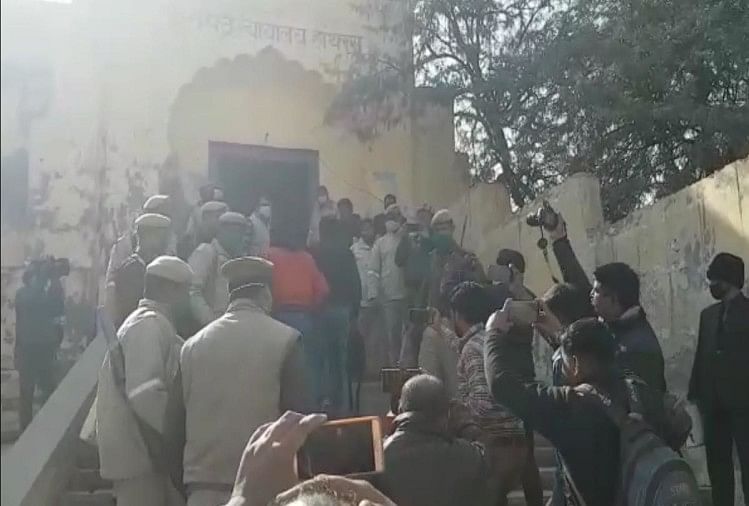 India News
Hathras case Cbi file chargesheet in case at Hathras district court all update – Hathras scandal: CBI files charge sheet in court
On December 17, 2020 by admin
Amar Ujala Network, Hathras
Updated Fri, 18 Dec 2020 1:37 PM IST
CBI team reaches district court
– Photo: Amar Ujala
The Central Bureau of Investigation (CBI) has filed a charge sheet in the SC / ST court on Friday i.e. today in the alleged gang rape and murder case in Hathras. The CBI has based the last statement of the victim on September 22. The CBI team has now left the decision on the court.
In this case, the counsel for the accused Munna Singh Pundir said that the CBI has made the four accused as the basis for the last September 22 statement of the student. The CBI has accused the four of gang rape and murder in the charge sheet.
Case filed in these sections
CBI has registered a case against the accused under 325 SC ST Act and sections 354 and 376A, 376D and 302 of IPC.
The CBI team will take the victim's brother to Gujarat for psychological evaluation.
This was the whole matter
On September 14, a 19-year-old girl was allegedly gang-raped by four men in a village in Chandpa Kotwali area of ​​Hathras. She was not in a position to speak anything when the girl was in distress. The woman was brought to the district hospital in Hathras in critical condition, from where she was referred to Aligarh.
The victim continued to be treated normally until 22 September, while her condition was very critical. On September 23, the victim received a ventilator. Given the critical condition, he was referred to Delhi on 28 September. On September 29, the victim died while undergoing treatment at Safdarjung Hospital in Delhi. Four youths were arrested and sent to jail on the complaint of the victim's brother.
After which there was a fierce demonstration across the country. However, the UP police had claimed in the post-mortem report that the victim was not gang-raped. The court also reprimanded the police on this statement. The SIT was formed by the Yogi government in this matter. Which has submitted its report to the government.
The CBI was formed following the recommendation of the Yogi government in this case. While investigating the case, the CBI questioned the victim's family several times. He also questioned the accused in jail and also asked questions to his family members. Apart from this, he had also inspected the site several times. The CBI team also conducted polygraphy tests and brain mapping of the accused.

www.amarujala.com