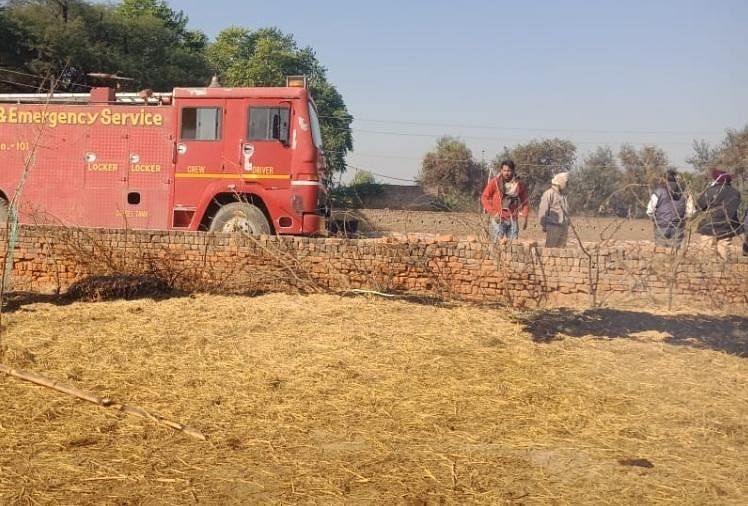 India News
Haryana: Thirteen Buffalo Died After Fire in Cattle Fence – fierce fire in cattle enclosure in Haryana, 13 buffaloes burnt alive, 45 scorched
On December 17, 2020 by admin
Samvad News Agency, Ratia (Haryana)
Updated Fri, 18 Dec 2020 3:06 PM IST
Fire engine car arrived in Ratia to extinguish the fire in the animal fence.
– Photo: Dialog News Agency
In Fatehabad, Haryana, 13 buffaloes died in a fire in an animal enclosure on Friday morning, while 45 buffaloes were scorched. The accident took place early Friday in Dhani Shergarh of Ratia of Fatehabad. On receiving the information, the vehicles of the fire department reached the spot and after a lot of effort, the fire was controlled. Police and animal husbandry department teams also reached the spot.
Ramphal and Titu, residents of Tohana Road in Ratia, feed the buffaloes of the people. Their family brings young children of buffaloes and nurtures them and when they grow up, hand them over to their owner. They get paid in lieu of this. He has built cattle fence near Dhani Shergarh, which has 68 buffaloes. Straws have been installed on the roof of this enclosure.
A sudden fire broke out in this enclosure at around 3:30 in the morning. When the heat of the fire reached the family of Ramphal who slept in the enclosure, he came to know of the fire. In a hurry, they started removing buffaloes, but by then the fire had already increased. On receiving the information, the people of the village gathered and attempted to extinguish the fire at their level, but due to the stubble, the fire took a terrible form and the fire reached the entire enclosure. The buffalo tied in the fence started scorching but due to being tied, they could not get out. At the same time, the villagers could not even enter the enclosure due to the fire.
The information was given to the fire department. Fire brigade vehicles reached the spot and started fire extinguishing. After much effort, the fire was controlled, but by then more than 12 buffaloes had lost their lives. Apart from this, around 45 buffalo were scorched. The buffalo, which was tied in the middle, was injured in the struggle to get out.
According to livestock owners, about 13 buffaloes have died and around 45 buffalo scorches. He alleged that even after giving information, the fire brigade department took 2 hours to arrive. So far no administrative officer has also come there. SDO of the Animal Husbandry Department, Satyaprakash Verma said that he has brought 7 buffalo for postmortem and 4 are in critical condition. Severe and burnt buffalo are being treated.

www.amarujala.com