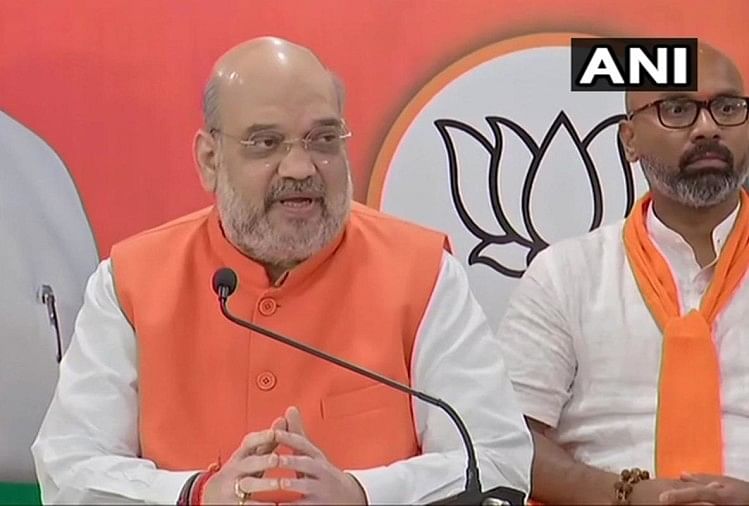 India News
Amit Shah talks with Party General Secretaries and Union Ministers on Farmers Protest – Amit Shah, active again about farmers movement, talks with these leaders including Union Ministers
On December 17, 2020 by admin
News Desk, Amar Ujala, New Delhi
Updated Thu, 17 Dec 2020 09:15 PM IST
Farmers across the country are protesting in Delhi over the new agricultural laws. Meanwhile, Union Home Minister Amit Shah was again active on the issue on Thursday. Home Minister Amit Shah, Agriculture Minister Narendra Singh Tomar and Commerce Minister Piyush Goyal held a meeting with party general secretaries at the BJP headquarters to discuss the farmers' movement.
In the meeting held under the leadership of Home Minister Amit Shah, there was a discussion about the farmer movement. The party's national general secretaries CT Ravi, Dushyant Gautam, Arun Singh and other officials were also present at the meeting. There was a long discussion in this meeting about the farmer movement. Shortly after the meeting ended, Agriculture Minister Narendra Singh Tomar wrote a letter to the farmers, in which he advised the farmers not to become a pawn of opposition, besides addressing the concerns of the farmers.

The meeting took place on a day when the Supreme Court, while hearing the petitions filed on the problems of movement due to the agitation of farmers on the borders of Delhi, said that the farmers have the right to protest non-violently . Tomar has said in this letter that the farmer brothers have confusion about this law, which is my duty to remove. Tomar said that the work is being done to mislead the peasant brothers and create confusion among them. It is our duty to remove the confusion among our brothers and sisters about the agricultural law. It is further written that those who opposed the ideology of the country in the 1962 war. The same people are misleading farmers from behind the scenes, today they are speaking the language of 1962 again. He wrote that some people are constantly spreading lies among the farmers. Farmers should not be caught in their words. The letter also clarifies the lies spread about agricultural laws.
Prime Minister Modi will address farmers conference
Prime Minister Narendra Modi will address the Kisan Sammelan to be held in Madhya Pradesh on 18 December. Prime Minister Modi will address through video conference. Madhya Pradesh Chief Minister's Office (CMO) tweeted that Prime Minister Modi will address the farmers of the state at 2 pm.

www.amarujala.com