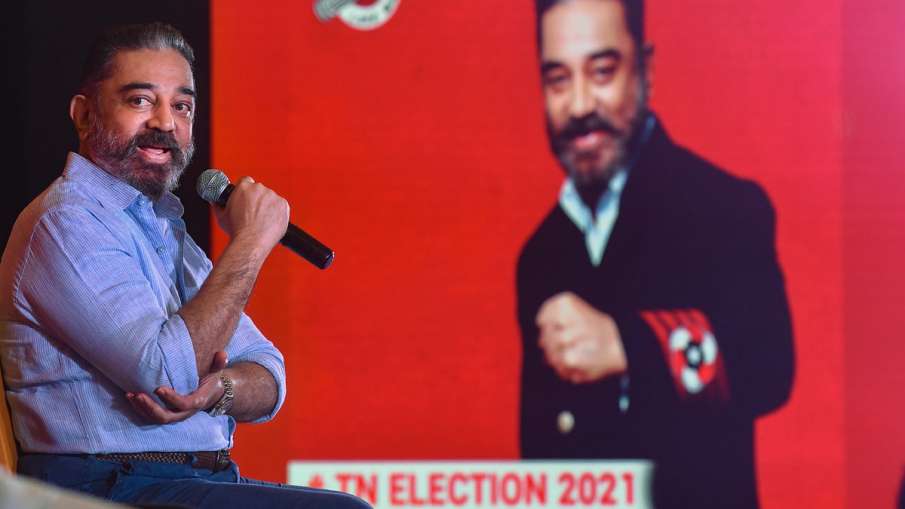 Sivakasi (Tamil Nadu): President of Makkal Nidhi Mayam (MNM) set out on its campaign in Tamil Nadu Kamala hasan On Tuesday recalled the historical work of late leader MG Ramachandran (MGR) and said that the former chief minister had links with the entire Tamil Nadu. Haasan said that 'ahem' can be kept aside and he can join hands with Rajinikanth, but this can only happen if people are expected to benefit from the electoral alliance between the two parties.
In january 2021 Rajinikanth When asked questions about the formation of the party, Haasan said that if the people among us benefit from the alliance, "we are ready to cooperate except for Aham and it has been said before." There is nothing new in this. "Haasan told reporters in Tuticorin, pointing to the old friendship with Rajinikanth," There is just a phone call delay between us. "
Earlier, actor-turned-politician Haasan refrained from naming the AIADMK party, saying that ever since he named MGR in his recent speeches, one party has been angry and he claims MGR belongs to him only. Haasan while addressing a gathering of MNM here said that the late leader MGR is from all over Tamil Nadu, not just one party. He said that this is the reason why people used to call him 'Makkal Tilagam' (mass leader), even if he was associated with any party. Whether he lived in DMK or later from AIADMK, which he founded.
Haasan said that all the people of the state say that MGR belongs to him and if it is so and if the ruling party tells him only the leader of one party then the public will give their verdict against such a stand. He tweeted that he had grown up in the lap of 'MGR', while many ministers from Tamil Nadu would not even have met him in person. Haasan also shared a 1980s video clip in which MGR is honoring him by wearing a shawl and kissing while giving the award. The video was recorded at a film festival. Renowned actor Rajinikanth and the BJP have also talked about MGR's welfare history, to which the angry AIADMK said that his successor is the only one.
Without naming any party, Haasan said that Tamil Nadu would give appropriate answers to those who tried to harm India's pluralistic values ​​in the name of caste or religion. Targeting the BJP indirectly, he said that the party could not keep the national capital clean, due to which the Congress leader had to go to Goa recently for a holiday. However he did not explicitly mention BJP or Sonia Gandhi's name. He also reiterated his previous promises of an honest and corruption-free government.
Launching a campaign from Madurai on December 13 for the assembly elections to be held in the state next year, Haasan pointed to the possibility of a renewed political alliance in Tamil Nadu. He also said that he is working towards realizing MGR's dream of making Madurai the second capital of the state.



www.indiatv.in