Highlights:
AAP intensified its politics with the announcement of landing in the 2022 assembly elections
AAP leader and Delhi Deputy Chief Minister Manish Sisodia will visit Lucknow on December 22
Manish Sisodia challenged to debate Delhi school model vs UP school model
Lucknow / New Delhi
The Aam Aadmi Party has stepped up its politics with the announcement of contesting in the 2022 assembly elections. Delhi Deputy Chief Minister Manish Sisodia is visiting Lucknow on 22 December. Along with this, he has also challenged CM Yogi Adityanath for the debate on UP's school vs. Delhi's school.
Manish Sisodia said, 'Since CM Arvind Kejriwal has announced to contest the 2022 UP elections, many UP ministers have said that they want to debate the Delhi school model versus UP school model. He has also challenged to come to UP and see schools here. I accept both challenges.
Read: CM Arvind Kejriwal's announcement- AAP will contest UP assembly elections with full force like Delhi

'Explain the place and time to debate'
Accepting the BJP's challenge, Sisodia said, 'Let me tell the Education Minister of UP that I am coming to Lucknow on 22 December to debate. You can tell whether to argue with Yogi ji or the Deputy Chief Minister or Education Minister. Also tell me the time and place. We will openly discuss government schools in UP and Delhi.
Thankyou on Yogi – you enjoyed 4 years
Taking a dig at CM Yogi Adityanath, Sisodia said, 'News reports are coming out about the state of UP schools. On the basis of these reports, I would like to request the UP CM that he has enjoyed a lot in the last 4 years and now only one year is left. Either improve the condition of schools or else one year people will change the politics of UP.
Aam Aadmi Party will enter the 2022 election
Let us tell you that Assembly elections are going to be held in Uttar Pradesh in the year 2022. In view of this, Delhi CM Arvind Kejriwal made a big announcement on Tuesday that the Aam Aadmi Party will participate in the 2022 assembly elections to be held. He made this announcement while addressing a press conference.
Targeting UP's parties
Kejriwal targeted all the political parties of Uttar Pradesh without naming them. He said that the people of Uttar Pradesh reposed trust in every party but all parties betrayed them. Every government of UP destroyed the corruption records of the previous government. He said that there is a lack of right and clear intention in UP politics. In Delhi, we acted cleanly and rightly and now we will do the same in UP.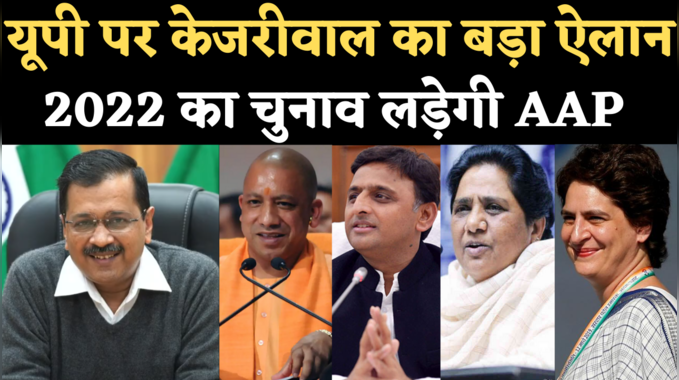 AAP to Fight 2022 UP Elections: A big announcement by Kejriwal, Aam Aadmi Party will contest elections in UP 2022
Yogi's challenge to Sisodia accepts

navbharattimes.indiatimes.com