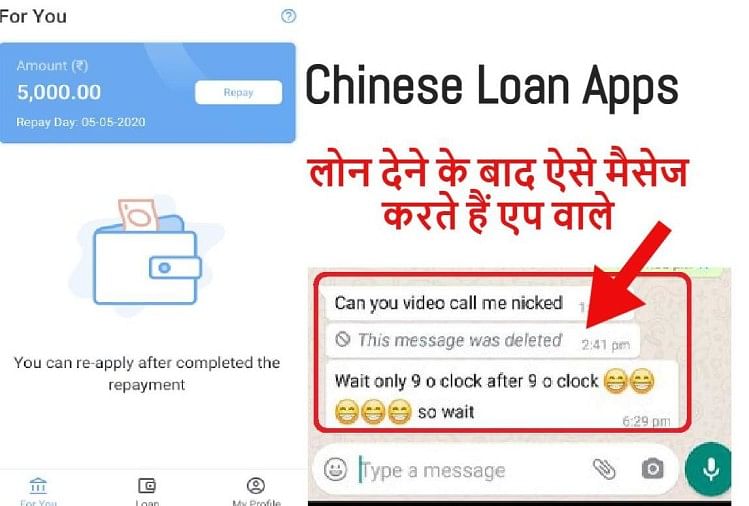 India News
Instant And Quick Loan Apps From China Threaten Borrowers With Social Shaming Harassment All You Need To Know – Chinese Apps Fueled By Instant Loans, Seeking Nude Video Calls On Delay In Repayment
On December 16, 2020 by admin
Tech Desk Amar Ujala, New Delhi
Updated Thu, 17 Dec 2020 05:03 PM IST
In August 2020, an app named Moneed leaked data of more than 350 million Indian users, which included many personal data including bank accounts and contact lists. For your information, let us know that Moneed is a Chinese financial app that gives loans. Anyone can take instant loan from a monied app. The condition for the loan is that you should have an Aadhaar card and you should be between 21 years to 40 years old. The situation that is being created after the loan from these Chinese apps is surprising and also worrying. These apps are threatening for not returning the loan and are asking for a video call by getting naked.
Photo threatened to go viral for delay in refunding money
instant loan chinese apps
– Photo: TWITTER
According to a report by the National Herald, these Chinese apps are giving loans quickly, but due to the delay in returning the money, these apps are threatening to make the photos, messages etc. on your phone viral. A person from Kerala named Ajit took a loan of Rs 35,000 from SnapIt for just six days. He has also paid Rs 47,000 with interest, but when there was a delay of just one day in giving the money, the app representative of SnapIt sent the photo and message of Ajit's phone to all his friends. Apart from this, the representative of the app has also threatened to call Ajit. The SnapIt app was also threatened to complain to the police.
More than 500 loan lending apps are available on play store
You will be surprised to know that the number of apps offering quick and instant loans on the Google Play Store is more than 500. These apps have taken great advantage of people's compulsions during the Corona period. The thing to note here is that most of these apps are not even registered with the Reserve Bank of India. In such a situation, they are not even authorized to give loans. Simply put, all the Chinese apps that offer quick loans on the Google Play store are working illegally. The surprising thing is that each of these apps has been downloaded at least 1 million times.
Nude video calling demanded for delay in refunding money
The report claimed that a representative of the app named Udhaar Loan demanded a video call to a girl from Tamil Nadu to be nude when she did not return the loan money on time. The sad thing is that the girl committed suicide in November this year.
Online loan horror :

Representative of a loan app called " Udhaar Loan " Asking a girl from Tamilnadu to video call her naked , if she fails to pay loan on time .

She attempted suicide today.

Please share max until it reaches @PMOIndia . pic.twitter.com/nD9evsGrhl

– Prashanth Rangaswamy (@itisprashanth) November 8, 2020
Don't forget to take loan even without these Chinese apps
Bubble Loan
Liquid Cash
Cash Bee
Rupee Factory
Paisa Loan
SnapIt Loan
In Need
Rupee Plus
Pan Loan
Cash Port
Wow Paisa
Gold Bowl
Ok Cash
Udhaar Loan
Go Cash
FlashCash
Cash Pot
One Hope
Bily Cash
Momo
CashBus
Timely Cash
And Cash
Kissht
Robo Cash
Fast Rupee
Cash Mama
Loan Time
Moneed
read ahead
Photo threatened to go viral for delay in refunding money



www.amarujala.com