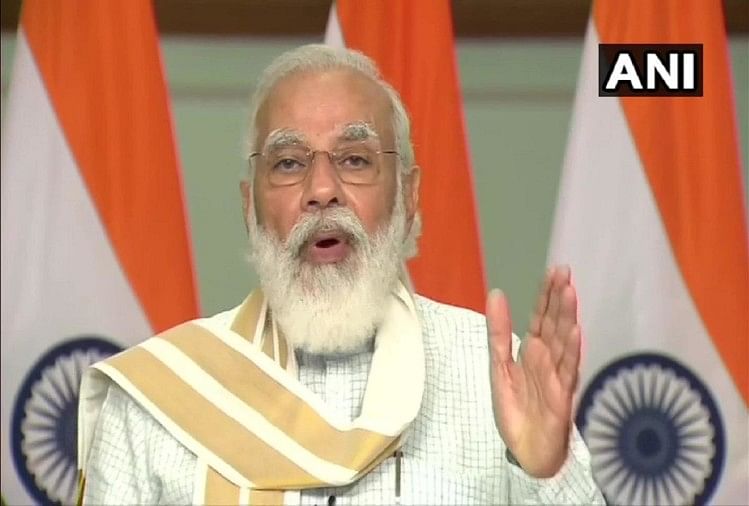 India News
Today Pm Narendra Modi to lay the foundation of some projects in Kutch Gujarat – Gujarat Modi
On December 15, 2020 by admin
News Desk, Amar Ujala, Kutch
Updated Tue, 15 Dec 2020 08:02 AM IST
Prime Minister Narendra Modi
– Photo: ANI
Amid the agitation against agricultural laws, the central government and the ruling BJP are going directly to the farmers to talk about their benefits. Prime Minister Narendra Modi will be among the farmers himself on Tuesday. He is going to Kutch in Gujarat on a day-long tour. Where the Prime Minister will lay the foundation stone of several development projects in Dhardo and interact with the farming community of Kutch.
The Prime Minister will also meet Sikh farmers of Gujarat. This information was given in an official statement. According to the statement, the Prime Minister will lay the foundation stone of some projects and communicate with the farmers and artists of Dhardo in Kutch. He will hold discussions with the farmers of Kutch before the main event.

The projects the Prime Minister will lay the foundation of include the hybrid renewable energy park and the automatic milk processing and packing plant. Gujarat Chief Minister Vijay Rupani will also be present on this occasion. The Prime Minister will also visit White Rann. The energy park to be built in Vighakot village of Kutch will be the largest renewable energy generation park in the country.
According to a press release issued by the state information department, Sikh farmers near the Indo-Pak border have been invited to communicate with the Prime Minister. Around 5,000 Sikh families live in and around Lakhpat taluka of Kutch district.
It is noteworthy that thousands of farmers have been protesting on the borders of Delhi for more than two weeks in protest against the new agricultural laws. Talks with the farmers organizations so far have been fruitless. A large number of protesters are Sikh farmers from Punjab-Haryana. That is why it is believed that the Prime Minister will try to convey the message to the Sikh community and farmers through this meeting with farmers.

www.amarujala.com