Weather of Rajasthan: Fog
– Photo: Amar Ujala
Severe winter has started in most parts of the country. In such a situation, mercury is now rapidly rolling with the cold winds. During this time, the temperature in Mount Abu, Rajasthan went below zero. The minimum temperature was recorded at 0.4 degree Celsius. At the same time, Churu recorded a minimum temperature of 5.2 degrees Celsius. After this, the night temperature in Pilani was 5.3 degrees Celsius. Meanwhile, Bikaner, Ganganagar, Faludi, Sikar, Jaisalmer and Alwar recorded minimum temperatures of 5.6, 6.4, 6.6, 7, 7.4 and 8 degrees Celsius respectively.
Jaipur, Barmer, Ajmer and Jodhpur recorded night temperatures of 9.8, 10.9, 11.5 and 12.3 degrees Celsius. The Meteorological Department has predicted a further drop in temperature in most districts of the state. Also, cold wave is said to prevail during the next 24 hours in Sikar and Jhunjhunu districts.

Let us know that the cold outbreak in Rajasthan has increased significantly. Dense fog engulfed different parts of the state on Monday morning, which also affected rail services. During this time the railway also canceled many trains. According to the Meteorological Department, there is a possibility of cold and increasing in North India in the coming days. Also, fog may persist.
Temperatures below zero in Kashmir valley, Gulmarg coldest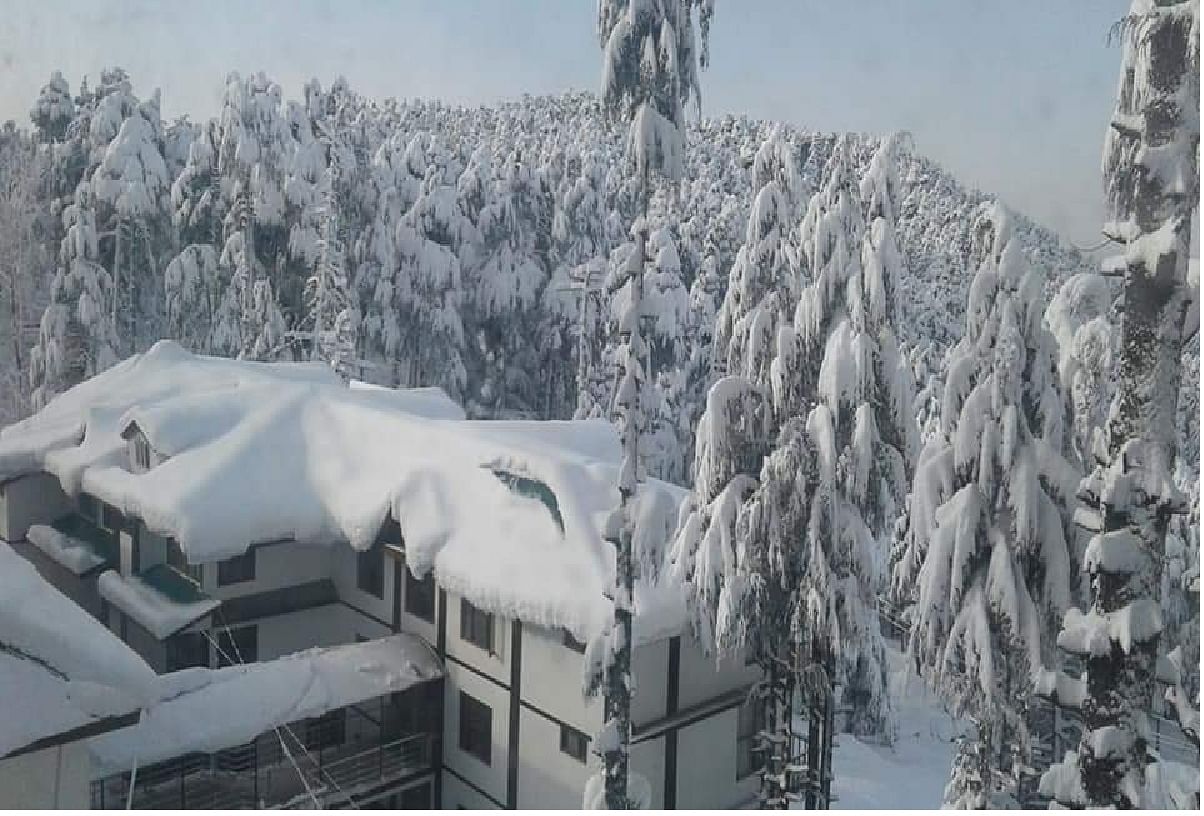 Snowfall
– Photo: Amar Ujala
Night temperatures in the Kashmir Valley fell below the freezing point. At the same time, the famous tourist destination Gulmarg was the coldest place with minus 10.2 degree Celsius. Meteorological Department officials gave this information on Tuesday. Officials said the temperature in all the weather stations of the valley was recorded below the freezing point. He said that Gulmarg, the famous ski-resort in North Kashmir, recorded a temperature of minus 10.2 degrees Celsius, six degrees below normal. Pahalgam resort in south Kashmir recorded a minimum temperature of minus 5.3 degrees Celsius and Srinagar minus 3.2 degrees Celsius. Officials said the temperature in Qazigund in the valley was minus 2.6 degree Celsius, while Kupwara in the north recorded minus 2.3 degree Celsius and Kokernag in the south recorded minus 4.2 degree Celsius. The Meteorological Department has said that the weather is likely to remain dry till December 21, with the possibility of further decrease in night temperature.
read ahead
Temperatures below zero in Kashmir valley, Gulmarg coldest

www.amarujala.com