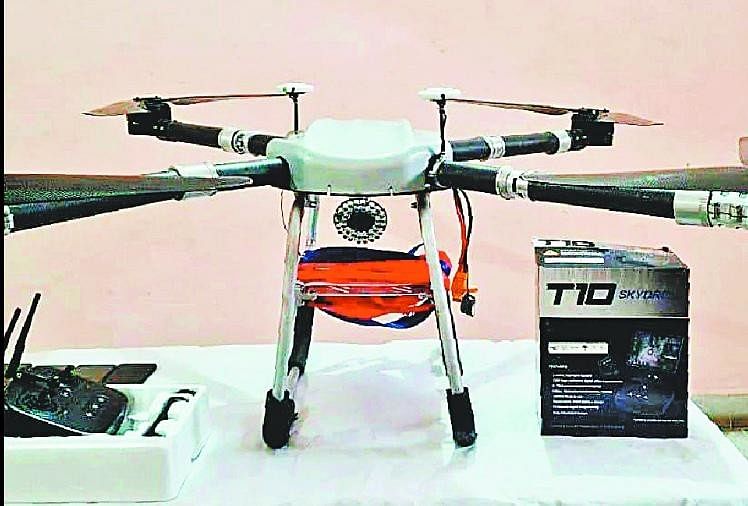 India News
Punjab Police Arrested Two Smugglers With Quadcopter Drone – Big success: Two smugglers arrested with drone in Punjab, used to get drugs and weapons from Pakistan
On December 15, 2020 by admin
News Desk, Amar Ujala, Chandigarh
Updated Tue, 15 Dec 2020 10:12 PM IST
Punjab Police has got a big success. Police arrested two members of the gang who smuggled drugs and weapons through drones. The accused have been identified as Lakhbir Singh alias Lakha and Bachittar Singh. Both of them have been arrested by the Amritsar (Rural) Police on specific information. The accused are being questioned. It is being told that after his arrest, his associates, including four drug traffickers, who are in Amritsar Jail, can be traced.
This seizure happened

Punjab DGP Dinkar Gupta said that a quadcopter drone with flower sporter stand and a skydroid T-10 2.4 GHz 10 CH FHSS transmitter, mini receiver and camera have been recovered from the accused. Apart from this, a .32 bore revolver, intoxicants, a Scorpio car and some live cartridges have also been recovered.
Bought drone from delhi
The main suspect Lakhbir Singh resident of village Chakk Mishri Khan police station Lopoke was arrested on Monday near Gurdwara Tahala Sahib police station Chattiwind Amritsar (Rural). During the investigation, Lakhbir Singh revealed that he had bought a quadcopter from Delhi about four months ago and currently the drone was in Guru Amardas Avenue Amritsar, home of his partner Bachittar Singh.
Police investigation revealed that Lakhbir Singh used to repeatedly contact four big drug addicts of Ajnala who are currently lodged in Amritsar Jail. A smartphone was recovered from Lakhbir's accomplice drug smuggler Surjit Christ by conducting a search in jail.
The main accused was in contact with Pak smuggler Chishti
According to the DGP, investigations have revealed that Lakhbir Singh established a vast communication network with foreign smugglers and units and was in contact with a notorious smuggler from Pakistan, Chishti. Chishti is also in touch with Pakistan-based Khalistani operators. He has been smuggling drugs through the border in India. Simranjit Singh, currently imprisoned in Amritsar Jail, had asked Lakhbir Singh to buy a drone for smuggling narcotics and weapons across the border. Gupta told that Simranjit Singh will also be named in this case.
Drones were bought for four lakhs
About four months ago Lakhbir Singh and his partner Gurpinder Singh went to New Delhi and bought a Skydroid T10 2.4 GHz 10 CH FHSS transmitter and heavy duty quadcopter from TRD Interpages Janakpuri for four lakh rupees. In this regard, an FIR has been lodged against Lakhbir Singh and Bachittar Singh, Gurpinder Singh and others under the sections of Arms Act, NDPS Act and Aircraft Act in Thana Gharinda.
read ahead
The main accused was in contact with Pak smuggler Chishti

www.amarujala.com