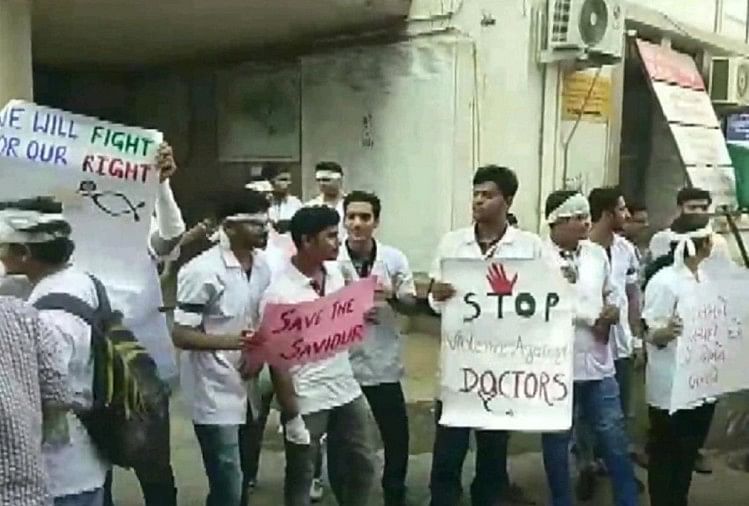 India News
Intern Doctors Sitting on Indefinite Strike to Demand For Increasing Stipend in Gujarat – Gujarat: Intern doctors seeking to increase stipend, sit on indefinite strike
On December 14, 2020 by admin
News Desk, Amar Ujala, Ahmedabad
Updated Mon, 14 Dec 2020 05:53 PM IST
Intern doctor performing
– Photo: social media
Indoor doctors from more than a dozen hospitals in Gujarat started an indefinite protest Monday demanding an increase in the stipend and a daily allowance of Rs 1000 during Kovid-19 duty deployment.
Hundreds of intern doctors, holding placards in their hands, sat on a dharna outside their respective hospitals. He demanded the government to increase the current stipend amount from Rs 12,800 to Rs 20,000 and provide a daily allowance of Rs 1000 during duty in Kovid-ward / Department. The intern doctors sitting on the dharna claimed that the amount currently being given as stipend is less than other states.

One of them said that the protesting intern doctors also want to relax their bond payments, bond conditions related to their service since April. They said that they would not do Kovid-19, emergency and non-emergency duty until the government accepts their demand in writing. One of the intern doctors, who staged the strike, claimed that 2000 interns in 14 medical colleges in Gujarat were involved in the demonstration as the report given to Chief Minister Vijay Rupani, Deputy Chief Minister Nitin Patel and senior officials in this regard was in vain.
A protesting intern of BJ Medical College here said that our primary demand is to increase the stipend amount as it is less than many other states. We have been working continuously since April due to the Kovid-19 epidemic and our movement is justified.

www.amarujala.com