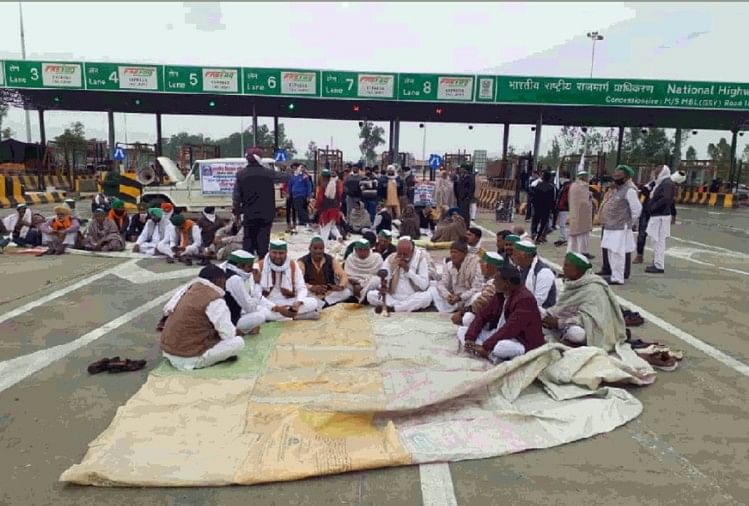 India News
Farmers will take out a procession in Meerut today – farmers in Meerut will take out a procession, SP will picket today, ralod will perform wisdom-purification yagya
On December 14, 2020 by admin
Farmers protest
– Photo: amar ujala
In protest against the agricultural laws, activists of Bakiu and farmer organizations will protest today. Farmers will take out a procession from Gandhi Park in Saharanpur. SP workers will hold dharna in Haqiqat Nagar, while RLD workers will perform Yajna-Shuddhi Yagya In Meerut also, SP workers will sit in the Commissionerate Park. RLD activists will perform wisdom-purification sacrifices at all district headquarters in western Uttar Pradesh for goodwill to the government at statues of great men.
In Bijnor, the police kept a close watch on Kailash Lamba, the West UP general secretary of the National Farmers Labor Organization, in his house. On Sunday, farmers blocked the Baraut-Meerut road in Barnawa after preventing Bhakyu workers from going to Delhi in Baghpat. A four-hour sit-in demonstration was held. The farmers have announced that the farmers will show their strength in the Collectorate on 14 December. Farmers' organizations in Shamli will also hold demonstrations in the Collectorate on Monday and submit a memorandum to the DM. The Samajwadi Party will also hold a demonstration in the Collectorate and submit a memorandum.

Wisdom of Ralod Yajna
On Monday, on behalf of the Rashtriya Lok Dal, the government will perform a Yudh-Shuddhi Yagna for the goodwill on the statues of great men at all district headquarters on Monday. The party's regional president Yashveer Singh said that the government wants to suppress the peaceful movement of farmers. The administration is also preventing farmers from carrying food on the border at the behest of the government. Leaders of opposition parties are being sent to jail after filing false cases. In order to bring goodwill to the government, on the instructions of RLD vice-president Jayant Chaudhary, intellects will be purified on the statues of great men at all district headquarters. So that he leaves the path of oppression and accept the demands of the farmers and end the movement. Bureau
CM said – Opponents conspiring with a gun on farmers' shoulders
On the other hand, Chief Minister Yogi Adityanath has strongly targeted the opposition supporting the farmer movement. In his address to the public meeting yesterday after the inauguration of the library of Sardar Vallabhbhai Patel Agricultural University, he said that some people are having problems with the development of farmers. That is why they are plotting on the pretext of peasant movement. Farmers need to be careful with such people.
The Chief Minister said that these are the people who hate India. Don't want the progress of the country, development of the poor and prosperity. These people are trying to destabilize the country with the help of farmer movement today. Challenging the opponents, the Chief Minister said that today people are also upset because Prime Minister Narendra Modi is taking the country forward. That's why the opponents are conspiring, because farmers are getting sugarcane payment today, money is going to farmers' account, many schemes are going on today with crop insurance scheme for farmers.

www.amarujala.com