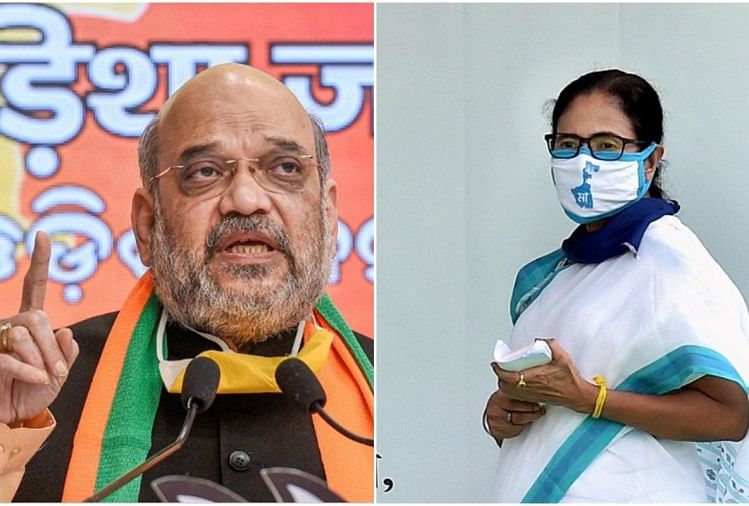 India News
Center Mamata Banerjee Live Updates Home Ministry Summon Chief Secretary Dgp Of Bengal Nadda Convoy Bjp Tmc – Bengal Chief Secretary and DGP to reach Delhi today? Confrontation between Center and Mamta government
On December 14, 2020 by admin
News Desk, Amar Ujala, New Delhi
Updated Mon, 14 Dec 2020 09:29 AM IST
Amit Shah-Mamta Banerjee (file photo)
– Photo: PTI
In the case of stone pelting on the convoy of BJP National President JP Nadda in West Bengal, the Ministry of Home Affairs has summoned the Chief Secretary and DGP of the state on Monday. Both have been asked to reach the ministry at 12.15 pm today. However, the Chief Secretary of Bengal has expressed his inability to come by writing a letter to Union Home Secretary Ajay Bhalla. If the Chief Secretary and DGP of Bengal do not appear in the Ministry of Home Affairs today, this could lead to an administrative and legal war between the state and the central government.
Trinamool Congress reacts to summoning officials

Kalyan Banerjee, senior Trinamool Congress MP (TMC), wrote a letter to Union Home Secretary Bhalla on Saturday, saying that calling Bengal Chief Secretary and DGP to Delhi over the attack on JP Nadda's convoy is politically motivated. Apart from this, he said that law and order is a state subject. He alleged that action was being taken to pressure the state administration to intimidate them. Banerjee said, "We want to inform you that under the seventh list of the constitution, law and order comes under the jurisdiction of the states." In such a situation, how can you call the two officials for any kind of discussion in the context of law and order?
Also read- Bengal: Center calls three IPS officers on deputation, TMC reports indirect emergency
The dismissal action can begin against the Bengal government
The Chief Secretary of Bengal and the DGP have been summoned to the Home Ministry on 14 December after the Home Ministry received a report on the law and order situation of Bengal Governor Jagdeep Dhankhar on the matter. However, the state government is not sending these two officials. These officers are currently working under the state government and cannot come to Delhi without their consent.
The ministry will have to inform these officials why the state government is not allowing them to come. In such a situation, if the Center is adamant about the law and order report of the Governor, then the dismissal action can be started against the Government of Bengal under Section 356.
Chief Minister Mamta is on a three-day tour of North Bengal from today
TMC President and Chief Minister Mamata Banerjee is on a three-day tour of North Bengal from today, amidst political upheaval in the state. She will reach Siliguri at around three in the afternoon. From here, she will go to Jalpaiguri and stay the night. She will address the rally in Jalpaiguri on December 15 at 12 noon. On 16 December, she will rally in Cooch Behar at 12 noon and then return to Kolkata.

www.amarujala.com