Highlights:
Last Thursday, BJP President JP Nadda's convoy was attacked in Diamond Harbor, South 24 Parganas in West Bengal.
A mob attacking with sticks, stones and bricks caused a lot of damage to the cars involved in the convoy
This crowd carried the flags of the ruling party and the Chief Minister and the local MLA were shouting slogans of Shaukat Mulla
Swapan Dasgupta, Kolkata
Coming out of the crowd attacking with sticks, stones and bricks is a terrifying experience. Despite this, the three passengers sitting in the rented taxis included in the convoy of BJP President JP Nadda managed to leave without getting hurt, there were three reasons, yes there were some bad pits on the car. The incident occurred last Thursday at Diamond Harbor in South 24 Parganas in West Bengal.
The first reason is that the three of us were lucky to have no security guards with us. Because of this, we were insignificant to the crowd as compared to leaders running with uniformed bodyguards. Secondly, we had closed all our doors properly – the rest did not pay heed to this precaution. And the last reason, it was almost miraculous that none of the crowd recognized Samik Bhattacharya. Samik Bhattacharya is a state BJP spokesperson and a popular face on Bengali TV channels.
Attack on JP Nadda's convoy: Center in the mood for tough action, Governor sent report, DGP of Bengal and Chief Secretary summoned
Mask saved
The reason for this may be that we all had masks because of Corona. It is quite possible that the people who were involved in the political deliberations were not the ones in the crowd chanting the slogan of Zindabad of Chief Minister and local MLA Shaukat Mulla for the ruling party's flag. These foot soldiers of politics used to take inspiration from elsewhere.
Not all were lucky
But many of the people involved in this convoy, including women, were not so lucky. Window panes of many vehicles, including media vehicles, were broken, at least eight people had to be admitted to the hospital. The worst effect was that at least 20-30 motorcycle riders were not only beaten by the crowd but their bikes were stolen.
Violence has become a part of politics
Political violence has been a part of West Bengal politics in the last 50 years. The Naxalites were said to be wandering idealists, but they were also adept at selectively killing members of the enemy class. These included from traffic policemen to vice-chancellors of universities. His hotly debated political debates were over whether the use of knives or guns was better in class violence.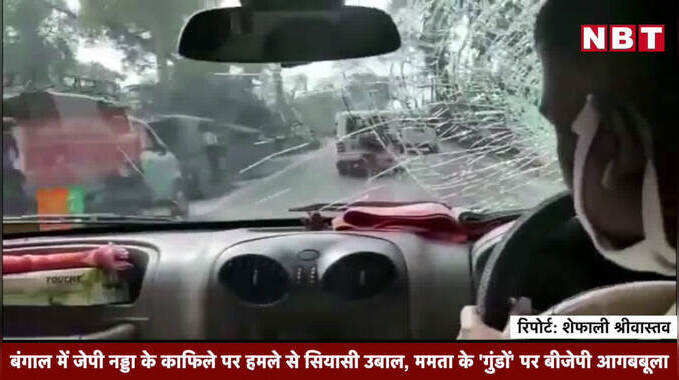 The attack on JP Nadda's convoy in Bengal boils down to political, BJP furious over Mamta's 'goons'
To read full article in english Here Click

navbharattimes.indiatimes.com