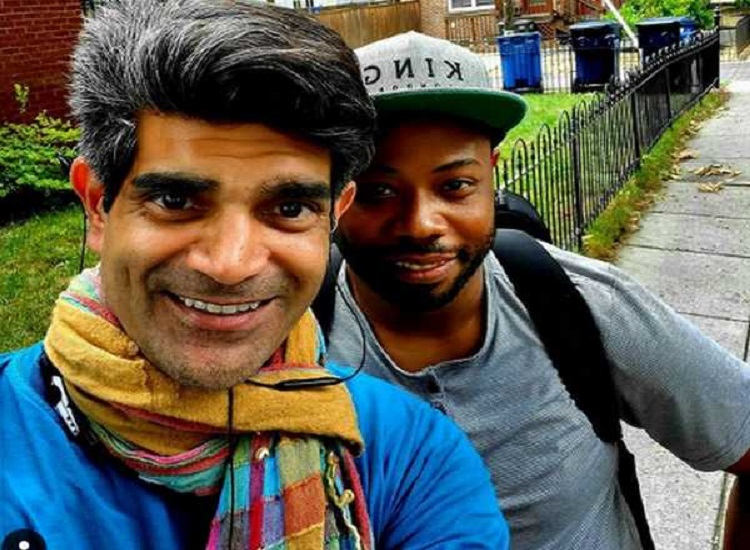 new Delhi: Indian American Rahul Dubey has become one of the most searched celebrities on the internet today. He is being praised all over the world. During the ongoing protests in the US against racism, he gave place to more than 70 protesters in his home and with this love for humanity, the prestigious Time magazine has included Rahul Dubey in the list of 'Heroes of 2020'. Time magazine Publishes the names of those who show courage to fulfill their duty.
Time wrote of Dubey, "the man who provided shelter to people in times of need." Rahul, 46, who works in the health sector, later said that he did not do anything great but it was comfortable in times of crisis The move was inspired by human nature. He also admitted in an interaction with an Indian newspaper that he too once suffered from racial discrimination in America. They are still angry about racism and class discrimination and say that these problems are man-made which can be eradicated.
Raised in the suburban area of ​​Detroit, US, Rahul is a first-generation Indian American and hails from Gorakhpur in Uttar Pradesh. His father in the late 1960s America I settled in and started his career in the automotive industry. It has been nearly 20 years since Rahul came to his ancestral village home in Uttar Pradesh, and after his grandparents' demise, contact with his relatives has diminished further. He is aware of the geopolitical changes happening in India but he is not interested in Indian politics.
Rahul says that human trust and love of man is the biggest law of the world. He says it is a matter of thinking even today if people have to demonstrate to end racial discrimination. Rahul has a 13-year-old son and he also wants to help people by taking inspiration from this and become a good person who struggles for his rights as well as the rights of others. Rahul, who has been living in the US for 17 years, runs a health care innovation company and graduated in business and international politics from the University of Michigan. After this story of his generosity and love for humanity, people from all over the world are sending messages on social media platforms praising him.
Congress President Rahul Gandhi also praised him, writing, "Thank you Rahul for opening the door to your home and your heart for the weak and downtrodden."
After the death of African American George Floyd in the US on June 1, the streets of Washington DC were filled with protesters. Dubey was then at his 1,500-square-foot three-story house on Swan Street. His house is not far from the White House. Curfew was imposed around 7 pm. He then realized that the mob was still on the road and the police had prepared a barricade to arrest him. Not only this, the police was also spraying Mirchi on them. Opening the door of his house, Rahul shouted and asked the people to come in and the whole rally swung to take shelter in his three-storey house. He was alone at that time in the house. His 13-year-old son had gone out somewhere. There were people all around his house, who were coughing due to the effect of tear gas bullets, rubbing their eyes, moving around in an injured condition.
34-year-old Allison Lane, a bar tender seeking refuge in his house, later told that Rahul was very calm and made full arrangements for the living of all people. A 16-year-old boy was also among the asylum seekers. Rahul removed his ice cream and gave him ice cream and asked him not to worry. People were sitting around in his house, even in the bathtub. Rahul not only gave shelter to about 70 such people in his house but also made arrangements for food and drink for them. Somehow even ordered pizza for them. His neighbors also helped him. All were people of different ages. But Rahul did not care about any color, religion and race in giving shelter to those people.
He says that human trust and love in humans is the biggest law of the world. One of his Indian-American neighbors in Washington DC says that Rahul is willing to lay down his life for others and has always stood up for what is right.



www.indiatv.in