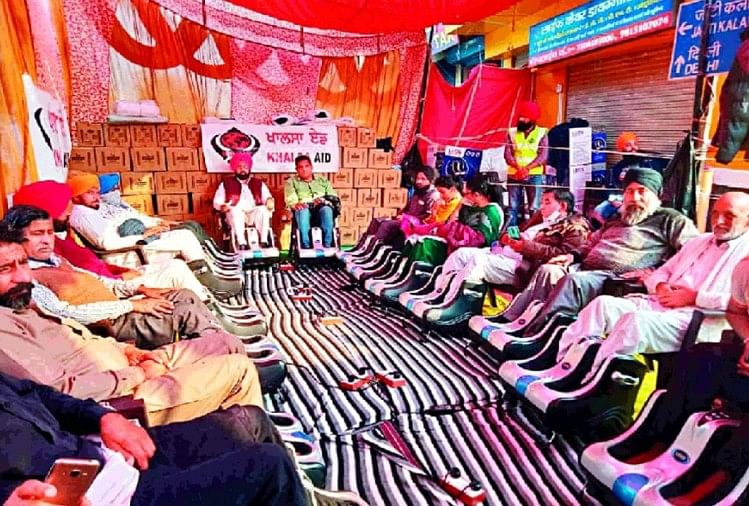 India News
Langar Of Blankets Brushes And Footwear On The Delhi Borders – Farmer Movement: Catering with blankets, brushes and footwear also anchored
On December 12, 2020 by admin
Not only catering, clothes, blankets, toothpaste, brushes, shoes, slippers are also being anchored in the peasant movement. Massage machines are also installed to remove fatigue. In the last fifteen days, about ten trucks of warm clothes have been distributed here. Every day about five hundred farmers remove their fatigue with massage machines. Its unique anchor is open throughout the day. It is overseen by professionals from multi-national companies. As a serviceman, he returns after working two or three days.
About 500 meters ahead, the Khalsa Aid of Punjab has anchored on the Singhu Border. A long line of farmers appeared on the right side. The farmers here were waiting for their turn to get massaged. There are 12 machines serving farmers here. Sukhwinder Singh, who works in the accounts section of a multinational company in Jalandhar, said that as the day progresses, it gets crowded. The service of farmers continues till the evening sets in. On the synergy of jobs and service, he said that he reached here on Thursday. After a day or two, he will return to Punjab again and another one will be replaced.

On the other hand, the anchor of the langar, Tejendar Pal Singh alias Prince, said that service to farmers is the greatest virtue. If the Annadata is on the road, then how can we sit at home filling his hard work. We have anchored here for the purpose of removing every problem for the farmers away from their homes. As long as the movement goes, we will not back down. On the question of installing massage machines, he said that initially it was not machines, but seeing the suffering of the farmers coming to the langar, 12 machines have been installed in the past.
Goods are distributed according to time
Operators say that every luggage kit has been made. Kits of brushes, brush, soap, etc. are given till 9 am, while clothes and shoes are distributed during the day. The blanket and mattress are anchored before dusk. The farmers go with the goods according to their needs.
Four delicious dishes are made together with steam, fills 500 stomachs
new Delhi. Gurdaspur Langar has installed steam boiler to provide delicious dishes to the farmers on the Singhu border. Four types of food are cooked together without the help of LPG and electricity. Its technology is also great. He is heated by the girl by filling water in the boiler and then sent to the big dag connected to it by controlling the steam. This does not waste steam.
Sevadar Gurupratap Singh says there are four dags associated with the bowler. Rice, two types of vegetables and lentils are cooked in them. Boiling steam is sent to all four vessels. The whole process is controlled. Wood is used to boil water. This makes food ready soon. The amount of food at one time is enough to feed 500 people. Work on this goes on throughout the day.

www.amarujala.com