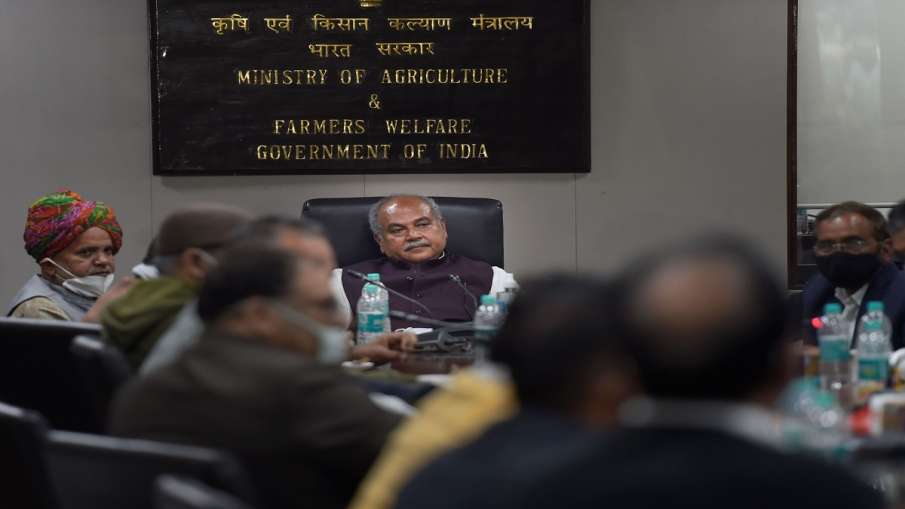 new Delhi. A farmer delegation from Haryana met Union Agriculture Minister Narendra Singh Tomar at Krishi Bhavan on Saturday. After the meeting with the farmers, Union Agriculture Minister Narendra Singh Tomar said, "The progressive farmer leaders of Haryana met me and submitted a memorandum supporting the three agricultural laws with their signature. They also shared their experiences of how these laws are benefiting them. " At the Krishi Bhavan, several farmers and organization-representatives met Union Agriculture and Farmers Welfare Minister Narendra Singh Tomar, thanking them for their agricultural reforms and demanded that the new agricultural law not be repealed. Let me tell you that the agitation has been going on for 17 days to demand the repeal of agricultural laws.
The doors of the Government of India are open for farmers 24 hours – Piyush Goyal
Union Minister Piyush Goyal said that the doors of the Government of India are open for farmers 24 hours. I understand that if this peasant movement is freed from Maoist and Naxal forces, then our peasant brothers and sisters will surely understand that these laws are for them and the national interest. Everyone believes that our leaders will take care of us, but perhaps there are no such leaders here. Such an atmosphere of fear has been created by these Naxalites that even if the farmer leaders want to talk about the real issues, there is no courage in anyone because they are intimidating. I understand that 18 parties of the opposition tried together but India did not stop. India will run, India will run faster, run. This belief is in the country today.
Union Minister Piyush Goyal said that farmers across the country are happy that they see that new investment will come, infrastructure will develop, new employment opportunities will be created. Maoist forces want to deprive farmers of all these opportunities. I demand from all political parties that they should make the country fully aware of these Maoist-Naxal forces instead of confusing the peasants and propagating the path of a movement on their shoulders.
Maoists and Naxalites are preventing them from discussing
Piyush Goyal further said that some leaders of a farmer have hijacked this movement. The Naxal-Maoist forces which have come to dominate there … In such a situation, the farmers have to understand that this movement has gone out of their hands and gone into the hands of these Maoists and Naxalites. We have given a very good proposal on what they saw by removing the squeeze from their old talk, but no one is willing to discuss it. It is a very unfortunate situation that the Maoists and the Naxals are preventing them from discussing.
Farmers warn of hunger strike
The attitude of farmer organizations regarding agricultural laws does not appear to be loosening. Farmers say that amendments in agricultural laws are not going to work, the government will have to withdraw the agricultural law altogether. In the midst of all this, till December 14, the farmers who had settled on the Delhi border have decided to intensify the movement. Farmer leader Gurnam Singh Chadhuni said that the trolley of farmers is being stopped when they come to Delhi from Punjab. They are appealing to the government to allow the trolley of farmers to come to Delhi. If the government does not listen to our demands before December 19, then we will start a hunger strike on the same day from the martyrdom day of Guru Tegh Bahadur.
Farmers will take out tractor march by blocking Jaipur-Delhi main road on Sunday
Kamal Preet Singh Pannu, leader of the Samyukta Kisan Movement, said that thousands of farmers would start a tractor march from Shahjahanpur in Rajasthan at 11 am on Sunday and block the Jaipur-Delhi main road. After our nationwide call, all toll plazas in Haryana are free today. Representatives and presidents of all the farmers' organizations will sit on a fast on the 14th on the stage. We call upon our mothers and sisters to join this movement. After arranging their stay, stay and toilet, we will include them in this movement.
I would have torn the bill …
Hanuman Beniwal of National Democratic Party (RLP) from Kotputli, Rajasthan said that if the 3 anti-farmer bill came in the Lok Sabha on the day if I were in the Lok Sabha, then definitely the way the Akali Dal opposed Hanuman Beniwal would be part of NDA Even then, he would have opposed these bills and would have torn and thrown the bills inside the Lok Sabha. We do not want to be a political victim of the Congress or other parties, so Hanuman Beniwal vows that if I have to resign from the membership of Parliament for the farmers without any greed.



www.indiatv.in