Highlights:
Farmers will intensify agitation against agricultural laws from Sunday
Today farmers 'fasting to Delhi' March 14 December
BJP will place Chaupal in 700 places to enumerate the benefits of the Agricultural Law
new Delhi
Seeing the negotiations with the government on the issue of agricultural laws not going forward, now the farmers are going to intensify their movement. A strategy has been chalked out to intensify the agitation on Sunday and Monday in the meeting of farmer leaders. Farmers union leaders have announced that on Sunday, 'Delhi Chalo' will start the march and will sit on hunger strike on 14 December.
Farmers 'Delhi Chalo' March on Sunday
Farmers of Shahjahanpur in Rajasthan will start a 'Delhi Chalo' march on the Jaipur-Delhi highway at 11 am on Sunday. Kamal Preet Singh Pannu, leader of the Samyukta Kisan Andolan, said on Saturday, "Thousands of farmers will march on tractors to stop the road from Shahjahanpur (Rajasthan) to Jaipur-Delhi tomorrow at 11 am."

Farmers will sit on hunger strike on 14th
Farmers are also going on hunger strike on December 14 in protest against agricultural laws. The farmers will go on hunger strike from 8 am to 5 pm on Monday. Giving information about this, the leader of the Samyukta Kisan Movement said, "Representatives and presidents of all farmers' organizations will sit on stage on the 14th on a fast. We call upon our mothers and sisters to join this movement. After arranging their stay, stay and toilet, we will include them in this movement.
Farmer leaders adamant on repeal of agricultural law
Farmer leaders have also said that the dialogue with the government should be open. He reiterated his demands on Sunday, saying that he was ready to hold talks with the government, but the first three new agricultural laws would be repealed. Addressing a press conference on the Singhu border, farmer leader Kanwalpreet Singh Pannu said that farmers from many parts of the country are coming here and they will take the movement to the next level in the coming days.
Due to farmer agitation, these roads are closed in Delhi-NCR, thoughtfully leave home
BJP will put Chaupal in 700 places
In order to convey the benefits of agricultural laws to the farmers, the BJP has announced to install towels in 700 places. Union Minister Ravi Shankar Prasad will launch the program from Bakhtiyarpur in Bihar. Bihar BJP President Sanjay Jaiwal said that the party is going to put Chaupal on all 243 assembly seats in Bihar.
PM Modi said to farmers against opposition to agricultural laws – all is for you!
Piyush Goyal said – Command of Left and Maoists hand movement
This movement has gone out of the leadership of the farmers and left and Maoist leaders. These leftist leaders want to run their agenda. It is taking a completely political form. They do not intend to find a solution. Instead of discussing them, they are just resting on one thing that the law should be withdrawn. On these charges, the farmer leader Rakesh Tikait said that if any such person is involved in the movement then the government should take action on it.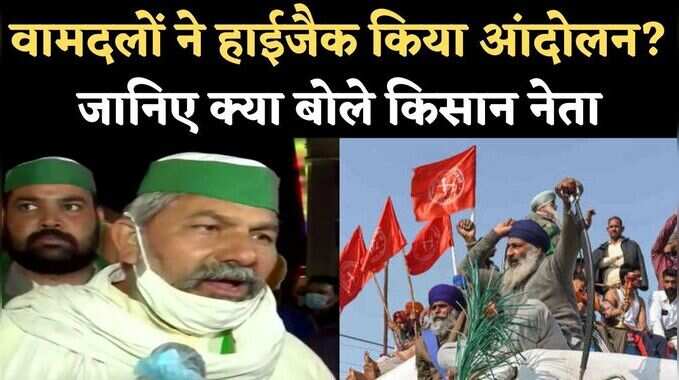 Leftists hijack movement Know what the farmer leaders said

navbharattimes.indiatimes.com