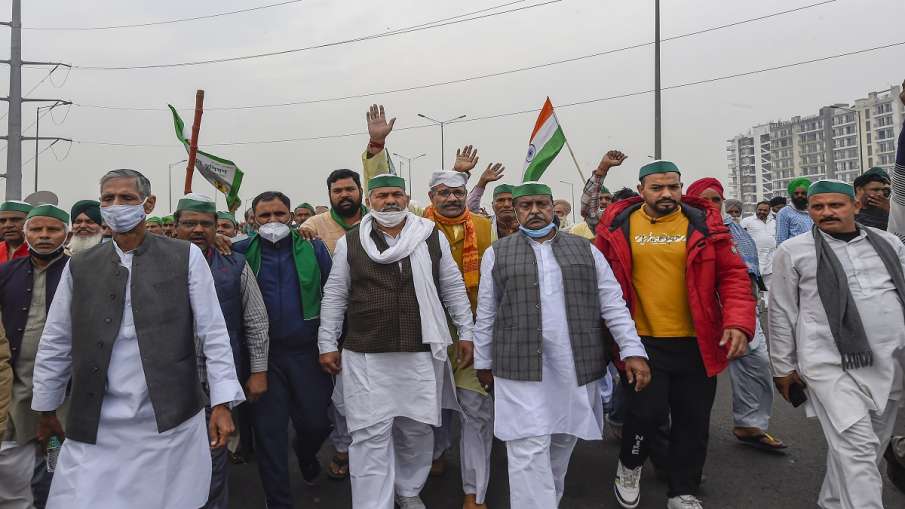 Ghaziabad Delhi Border. The farmers' movement in Delhi seems to be accelerating against the agricultural law. On the one hand, to give the edge to this movement, the farmers of Rajasthan are also seen coming forward, while the farmers sitting on the borders of Singhu, Tikri, Chilla and Ghazipur have also made complete preparations. Rakesh Tikait, the leader of the Indian Farmers Union, said tightening a snout, "Today rain will come and find a way to avoid it."
Read- Farmers freed Basalta in Karnal and Shambhu toll plaza of Ambala
Actually, there was rain in Delhi NCR on Saturday morning due to which light cold increased. At the same time, the huts of the farmers have also got wet due to sitting in the open sky. To which Rakesh Tikait responded in a funny manner. Rakesh Tikait told IANS, "Today the rains will come, we will find a way of how to protect the people coming out in the open. Wherever you will save your hut and your starch from getting wet. If it gets wet then the farmers will have problems."
Read- 'Congress deviates from political direction after I become President'
He said, "This is a very big plan for us as well, our farmers in the village are present at Toll Nako. But here we will be taught how to avoid the rain."
He further said, "My hut is also built, if it is wet in the rain, what will I do?"
Read- Farmers organization will give more edge to the movement, today claims to make it toll free across the country, latest updates will be found here
In fact, farmers from various places in Uttar Pradesh and Uttarakhand have reached the Ghazipur border. At the same time, they have raised their voice against agricultural laws. However, when Rakesh Tikait was asked if you would go to the Singhu border, in response, Tikait said, "Right now there is no such plan, if we are called from there, we will definitely go."
Read- Sharjil Imam, Umar Khalid's poster and peasant movement? Agriculture Minister raised questions
Farmers' organizations are going to have three weeks to withdraw the agriculture law and every day farmers are intensifying their agitation. Due to which traffic has stopped at many places including the Singhu border, Tigri border. Farmers have camped on most of the borders connecting Delhi. At the same time, people are facing difficulties in traveling. The farmers are preparing to jam the Delhi-Jaipur and Agra highway from today.
Read- Government is paying 5 lakh rupees under 'Widow Women Prosperity Scheme'? What is truth
The closure of these highways will cause a lot of trouble to the passengers on all the routes connecting to Delhi. In fact, the farmers rejected the proposal of the central government and decided to continue their agitation. The protesting farmers have announced the closure of Delhi-Jaipur highway and Delhi-Agra highway on 12 December and also decided to make all toll plazas free in the country.



www.indiatv.in