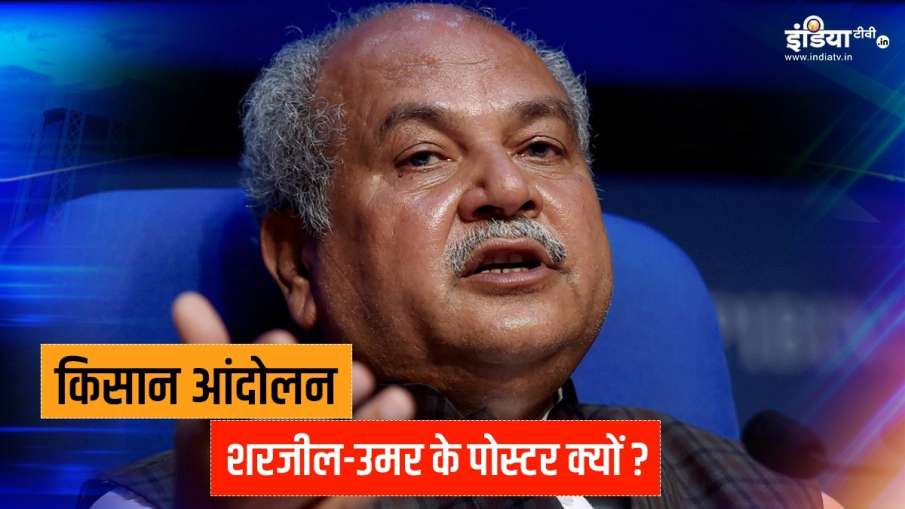 new Delhi. Farmers 'organizations are raising questions about the posters of Delhi riots accused in the farmers' movement. Yesterday the Farmers Union Ugrahan faction on the Tekri border had put up posters of Delhi riots accused Omar Khalid, Sharjeel Imam and Khalid Saifi and demanded their release. India TV first showed this news and showed how some people on the Tikari border are hijacking the agitation from the platform to the farmers.
Read- Aadhaar Card Center: You can also open Aadhaar Card Center, earning well, know the whole process
Today, Agriculture Minister Narendra Singh Tomar has questioned the posting of posters of the Delhi riots accused on the farmers' platform. Tomar said that the demand of the farmer may be on the change in the MSP and the law, but which is the farmer movement in which the posters of the riot accused are being put up. Narendra Singh Tomar said that this would disintegrate the peasant movement and leaders should avoid it.
Read- BJP gets aggressive after attack on JP Nadda's convoy, Amit Shah will go to Bengal
Government ready for talks with farmers- Narendra Singh Tomar
Earlier, Narendra Singh Tomar said that during the Kisan agitation, there were six rounds of talks with the union. The government was constantly urging that what are the provisions of the law which the farmer has objected to, this could not be possible in many rounds of negotiations. He said that the proposal is with him (farmers), his comments did not come to us. It is revealed through the media that he rejected the offer. No proposal for talks has come from their side yet, as soon as the proposal comes, we are ready for talks.
'Farmers should break the deadlock and negotiate'
Narendra Singh Tomar said, "I want to tell the people of the farmers union that they should break the deadlock. The government has moved forward, the government has sent a proposal to address their demands. On the provision in any law There is an objection, the provision itself is discussed. In the proposal, we have tried to address their objections. They should end the agitation and adopt a path of dialogue. "
'Government of India has made laws very deliberately'
He said that the Government of India has made laws very thoughtfully, to change the standard of living of farmers. The government is ready to talk and improve it (law). It is winter and Corona is in crisis, farmers are in great danger. People are also troubled by the movement, the people of Delhi are getting upset. Therefore, in the interest of the public, they (farmers) should end their agitation in the interest of the farmers.



www.indiatv.in