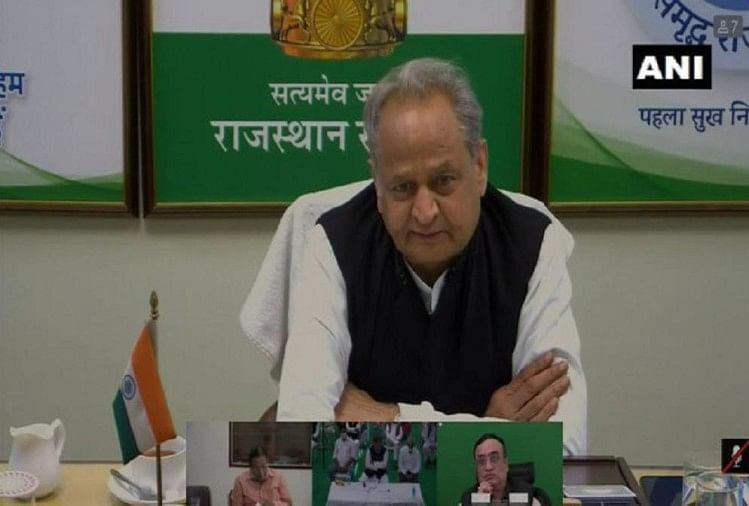 India News
Rajasthan Chief Minister Ashok Gehlot Says Bjp May Compromise On Common Man Life To Win Elections – BJP May Also Compromise Life Of Common Man To Win Election: Gehlot
On December 11, 2020 by admin
News Desk, Amar Ujala, Jaipur
Updated Fri, 11 Dec 2020 6:27 PM IST
Rajasthan Chief Minister Ashok Gehlot
– Photo: ANI
Rajasthan Chief Minister Ashok Gehlot has targeted the BJP by tweeting one after the other on Friday. He has said that on the orders of the BJP High Command regarding the Zilla Parishad, Panchayat Samiti election results in Rajasthan, the Union Ministers have spread lies by press conferences to fade the peasant movement. The BJP is displaying the results like its big victory, which proves to be wrong in the data analysis.
BJP can also compromise the life of common people to win elections.

Gehlot further said that the BJP's national president, Union Home Minister Amit Shah and Chief Ministers of several states going to the Municipal Corporation elections in Hyderabad show their thinking of violating the Corona Protocol. It shows that the BJP can also compromise the life of the common man to win the election.
Politics was necessary for BJP leaders at the time of Corona
The Chief Minister said that politics was necessary for BJP leaders when all our focus was on saving lives and livelihoods. During the corona, the entire focus of the Rajasthan government was on epidemic prevention. Therefore, Congress did not send state-central level leaders to campaign in these elections so that the crowd does not gather, to stop the spread of the epidemic. At the same time, even the Union Minister of BJP got down to campaign in these elections.
The number of Congress heads has already increased by 31
Gehlot further said that in 222 panchayat committees, 98-98 equal to BJP and Congress and 26 heads of other parties were elected. In 2015, the Panchayat Samitis had 112 heads of BJP and 67 of Congress. The number of Congress chiefs has already gone up by 31 while the number of BJP chiefs has decreased by 14.
Congress gets 0.29% more votes than BJP
In the polling held on 222 panchayat samitis of 21 districts, the Congress got more votes than the BJP. The Congress has got 40.87 percent votes while BJP has got 40.58 percent votes. Congress has got 0.29 percent more votes than BJP.

www.amarujala.com