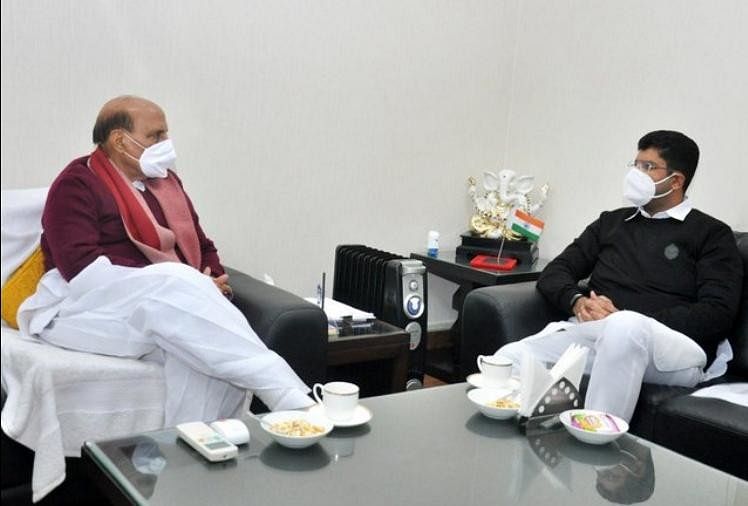 India News
Haryana Deputy Cm Meets Defense Minister in Delhi – Haryana: Deputy Chief Minister Dushyant Chautala met Union Defense Minister amid reports of secession
On December 11, 2020 by admin
Haryana Deputy Chief Minister Dushyant Chautala met Union Defense Minister Rajnath Singh.
– Photo: ANI
The agricultural laws are closely tied to the government and farmers. Meanwhile, on Saturday, Haryana Deputy Chief Minister Dushyant Chautala met Union Defense Minister Rajnath Singh in New Delhi.
The Haryana government is also in trouble due to the farmer movement. Jananayak Janata Party (JJP) leader Dushyant Chautala, an ally of the government in the midst of the peasant movement, has said many times that if the farmers are not heeded, they might consider leaving the chair.

Dushyant said that as long as the farmers get MSP (Minimum Support Price) in Haryana, they are part of the government. The day farmers will not get MSP in the state, they will give up the stake from the government. CM Manohar Lal said that the MSP will not end. The coalition government is strong and will work in the state's interest for the next four years.
The Deputy Chief Minister said that the National President of JJP (Jananayak Janata Party), Dr. Ajay Singh Chautala had first asked the Center to include the MSP (Minimum Support Price) in writing, on which the Central Government is ready. As long as we are in government, MSP will be ensured on every single grain of farmers' crops. He will resign the day the MSP system is hit. He told the Congress leaders that even after this, if anyone has any doubt, then they should look at the historical purchase of Bajra in Haryana.
The Deputy Chief Minister surrounded the Congress on the peasant movement. He said that this is not the case in the neighboring states of Punjab and Rajasthan and millet is being sold on the roads there. He said that the Chief Minister of Punjab had done the work of torturing the farmers. He said that during the sowing season, the farmers of Punjab have neither fertilizer nor seed. He said that in this way, the Punjab government systematically harassed the farmers, due to which there is anger among the farmers of Punjab today.

Deputy Chief Minister of Haryana, Dushyant Chautala meets Union Defence Minister Rajnath Singh in New Delhi: Office of the Raksha Mantri (RMO) pic.twitter.com/2hmgwFWdZi

– ANI (@ANI) December 12, 2020



www.amarujala.com