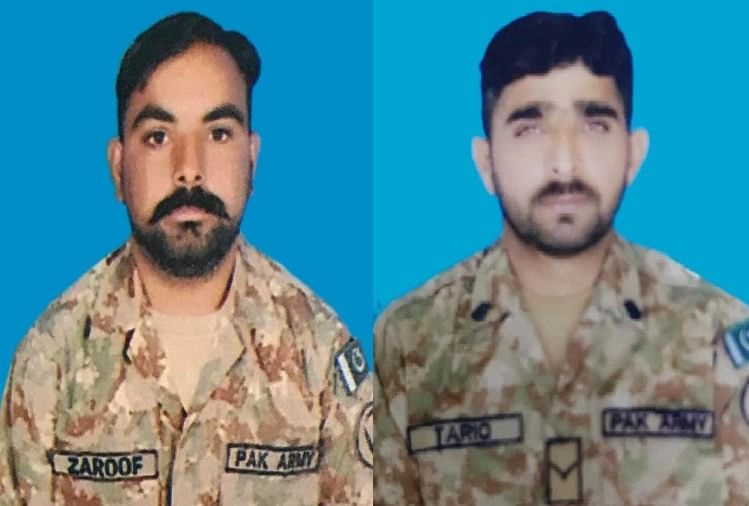 India News
Two Pakistan Army Troops Killed in Exchange of Fire with Indian Troops on Locations Says Pakistan Army – Pakistan firing heavy, Pakistan confessed; Two soldiers killed in retaliation for India
On December 10, 2020 by admin
World Desk, Amar Ujala, Islamabad
Updated Thu, 10 Dec 2020 09:41 AM IST
Pakistani soldiers killed in retaliation for India
– फोटो : Twitter/@OfficialDGISPR
Pakistan often violates the ceasefire along the Jammu and Kashmir border. However, this time his nefarious move overshadowed him. The Indian Army retaliated and killed two Pakistani soldiers. The shocking thing is that Pakistan has confessed that two of its jawans have been killed in retaliation for India.
It is often seen that Pakistan does not give easy information about its soldiers killed, but this time Pakistan has also released photos of its soldiers killed, and it is accepted that Indian Army has killed two of its soldiers. Significantly, during the winter season, the Pak army keeps trying to infiltrate the terrorists in Kashmir by infiltrating the ceasefire.
Indian troops initiated CFVs in Khuiratta Sector along #PLACE. Pakistan army troops responded befittingly. Reports of heavy losses 2 Indian troops in men & material. During exchange of fire, while fighting valiantly, 2 soldiers, Lance Naik Tariq & Sepoy Zaroof embraced shahadat. pic.twitter.com/v5NqywqnP3

— DG ISPR (@OfficialDGISPR) December 9, 2020
The Pakistani Army tweeted that two Pakistani soldiers were killed in an action by the Indian Army in Khuirata sector of the Line of Control (LoC). The dead include Lance Naik Tariq and Sepahi Zaruf. At the same time, in its tweet, the Pakistani Army has claimed that two Indian soldiers have been martyred in their retaliation.
Fearing surgical strike, army ordered to remain on high alert
The Pakistani army has confessed to the killing of its soldiers at a time when it once again feels the threat of a surgical strike by the Indian Army. Pakistan has ordered its army to be on high alert.
Pakistan's leading newspaper Express Tribune says that there have been indications from intelligence agencies that India may conduct a surgical strike to divert attention from the ongoing farmer movement in Delhi. The newspaper quoted military sources as saying that Pakistan has asked soldiers to remain alert on the borders of India due to the possibility of strike.
Also read: Pak was afraid of surgical strike, said – action possible to divert attention from farmer movement
Pakistan news Geo News has also published this news. Geo News has written that Pakistan has kept the army on high alert due to the possibility of any flag operation or surgical strike from India. The newspaper says that India may conduct a surgical strike on Pakistan to divert attention from its internal and external problems.
India took revenge for Uri and Pulwala by air strike
Significantly, after the terrorist attack on Uri military camp, a team of para commandos of the Indian Army carried out a surgical strike in Pakistan-occupied Kashmir. In this attack, the bases of the terrorists were destroyed and many Pakistani soldiers were also killed. After this, after the attack on CRPF at Pulwala, India retaliated and destroyed the terrorist bases by air strike in Balakot, Pakistan.



www.amarujala.com