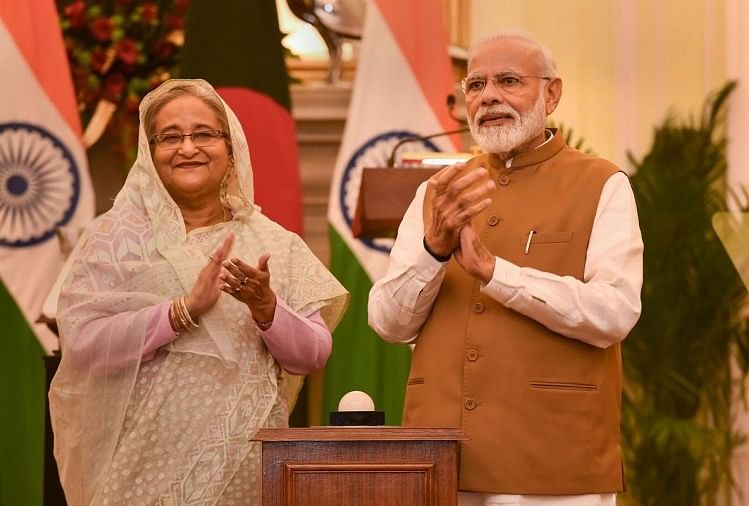 India News
PM Modi, Hasina to Virtually Re-launch Cross-border Rail Route After 55 Years – Rail to run between India and Bangladesh after 55 years, Modi-Hasina to inaugurate on 17 December
On December 10, 2020 by admin
PTI, Guwahati / Cooch Behar
Updated Fri, 11 Dec 2020 1:21 AM IST
Prime Minister Narendra Modi and Bangladesh Prime Minister Sheikh Hasina
– Photo: PTI
The rail route between Haldibari in West Bengal and Chilhati in Bangladesh will be reopened on December 17 after 55 years. The Prime Minister of India and Bangladesh will inaugurate it. An official of the North East Frontier Railway (NFR) gave this information.
In 1965, the railway line between Haldibari in Cooch Behar and Chilhati in northern Bangladesh was closed after the rail link between India and the then East Pakistan was lost. NFR Chief Public Relations Officer Subhanan Chanda said that Prime Minister Narendra Modi and his Bangladeshi counterpart Sheikh Hasina will inaugurate the Haldibari-Chilhati rail route on December 17.

He said that a freight train from Chilhati to Haldibari would come in the Katihar division of NFR to restore the rail route. Katihar Divisional Railway Manager Ravinder Kumar Verma said that the Ministry of External Affairs on Tuesday informed the authorities about the restoration of the rail route. The NFR said that the distance from Haldibari railway station to the international border is four and a half kilometers and the distance from Chilhati to the border in Bangladesh is around seven and a half kilometers. After visiting Haldibari station on Wednesday, Verma said that when the passenger service starts on this route, people will be able to reach Kolkata from Jalpaiguri near Siliguri in seven hours and this will reduce the earlier travel time by five hours.

www.amarujala.com