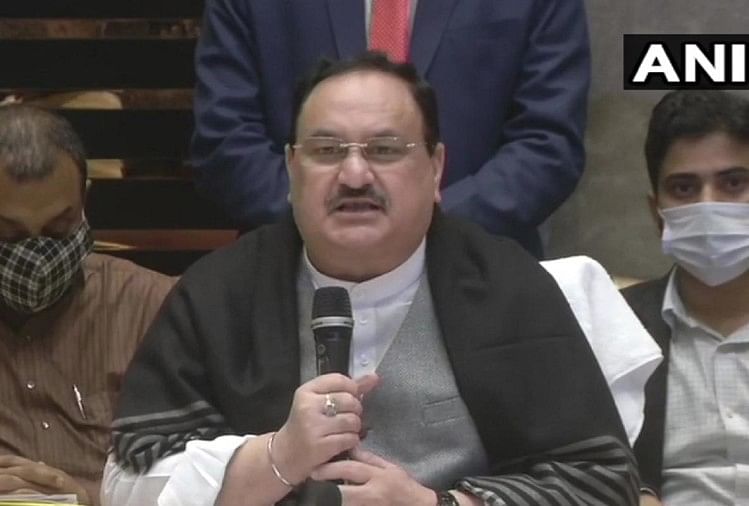 India News
Jp Nadda Slammed Mamata Banerjee Government Over Attack On His Convoy – Damaged law and order in West Bengal, another name for intolerance is Mamata: JP Nadda
On December 10, 2020 by admin
News Desk, Amar Ujala, Kolkata
Updated Thu, 10 Dec 2020 07:26 PM IST
JP Nadda doing the press conference
– Photo: ANI
A stone pelting incident took place on Thursday in South 24 Parganas district on the convoy of Bharatiya Janata Party national president JP Nadda on a two-day visit to West Bengal. In the evening, Nadda held a press conference in this regard. During this, he said that the way Mamata Banerjee's government is working in West Bengal is completely contrary to the Indian democratic system.
JP Nadda said, the incident that happened today shows that the law and order in the state is over and chaos and intolerance persists. He said that no political debate is needed in this matter. The way Mamata government is working is contrary to India's democratic system and clearly shows that 'another name for intolerance is Mamta'.

The way Mamata government is working is detrimental to Indian democracy and clearly shows 'Intolerance thy name is Mamata': BJP president Jagat Prakash Nadda https://t.co/brCsYt7Edx

– ANI (@ANI) December 10, 2020
BJP president said that today eight of our children were injured in the attack on our convoy, these children were from Bengal. Every worker of the Bharatiya Janata Party will stand with him at all times. He said that the impact of the brick thrown at us can be seen on the windscreen of my bulletproof vehicle. I survived only because I was sitting in a bulletproof vehicle.
He said, 'This incident speaks loudly about Mamta ji's mentality … I have come to know that she has given me many names. Mamta ji, this shows about your culture. This is not Bengali culture. We are proud of Bengali culture. '
Bangladeshi people settling in Bengal, but people of the state are being driven away: Nadda
Earlier, BJP President Nadda alleged that people of Bangladesh are coming and settling here, but the Trinamool Congress is driving away the residents of the state. In a meeting with the fishermen community in South 24 Parganas district, Nadda alleged that the grain sent by the Center to the state is grabbed by Trinamool Congress leaders. He said, 'One of the corrupt governments is running here. This is the government of the chawl (rice) thief. ' Nadda alleged, "People from Bangladesh are coming and settling here, while the Trinamool Congress is driving the residents of West Bengal out of the state."
read ahead
Bangladeshi people settling in Bengal, but people of the state are being driven away: Nadda



www.amarujala.com