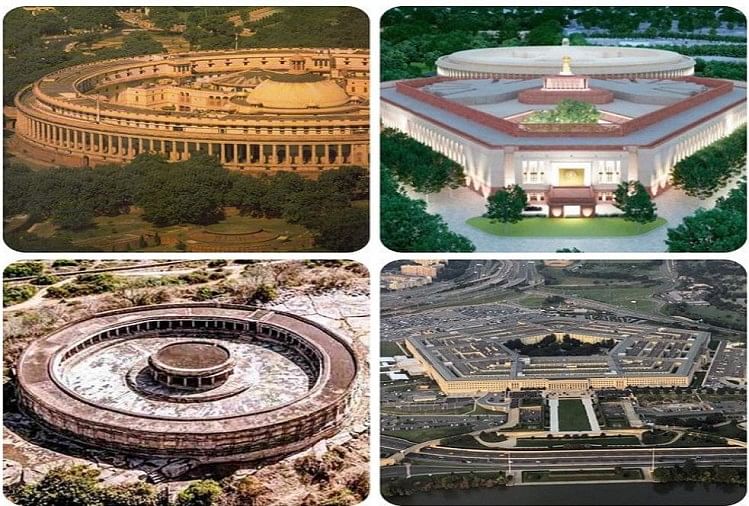 India News
Congress Leader Jairam Ramesh Says New Atmanirbhar Parliament Building Bears An Eerie Likeness To The Pentagon – Congress leader Jairam Ramesh Taunted, said – 'Self-reliant' Parliament building format like Pentagon
On December 10, 2020 by admin
News Desk, Amar Ujala, New Delhi
Updated Thu, 10 Dec 2020 06:00 PM IST
Construction of new parliament building
– Photo: social media
Prime Minister Narendra Modi on Thursday laid the foundation stone of the new Parliament House. On this, Congress leader Jairam Ramesh has taunted the new Parliament House as 'self-sufficient'.
He tweeted, "The current Parliament building built by the British resembles the Chausath Yogini temple in Morena, Madhya Pradesh, but the new 'self-sufficient' Parliament building format resembles the Pentagon in Washington DC." Jairam Ramesh has shared the designs of the old Parliament House and the new Parliament House as well as photographs of the Chausath Yogini Temple and the Pentagon.

Well, the existing Parliament building built by the Brits bears a remarkable similarity to the Chausath Yogini Temple in Morena in Madhya Pradesh, while the new 'atmanirbhar' Parliament building bears an eerie likeness to the Pentagon in Washington DC. pic.twitter.com/Hy2u6fzlms

– Jairam Ramesh (@Jairam_Ramesh) December 10, 2020
Parliament House gets a lot from the temple
Chausath Yogini Temple and Parliament House have many similarities. The Chausath Yogini Temple is built on 101 pillars while the Parliament House rests on a 144 strong pillar. The structures of both are round. The Chausath Yogini temple has 64 chambers. There are 340 rooms in the Parliament House. There is a huge chamber in the center of this temple which has a big Shiva temple. There is also a big hall in the middle of the Parliament House.
Construction of new parliament building will be done at a cost of Rs 971 crore
The new Parliament building will be in an area of ​​64,500 sqm and its construction is estimated to cost a total of Rs 971 crore. The new Parliament building will have anti-earthquake capacity and 2000 people will be directly involved in its construction and 9000 people will have indirect participation. The Lok Sabha chamber of this building will have a seating capacity of 888 members, while the Rajya Sabha chamber will be able to seat 384 members. 1224 MPs will be able to sit together in the new Parliament House. At present there are 543 members of Lok Sabha and 245 members of Rajya Sabha.
Older The Parliament House was designed by the British Architect
The then famous British architect Edwin Lutyens was called to design the old Parliament House. He designed the Parliament in the year 1912-13 and was ruthless between 1921 and 1927. After the formation of the Parliament, it was inaugurated by the then Viceroy of India, Lord Irwin. The building was constructed by the British to form the new administrative capital in Delhi. After independence, this building became the Parliament House.



www.amarujala.com